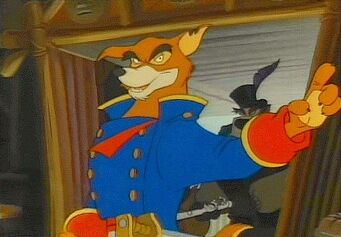 Captain Don Karnage is the main antagonist of the Disney television series TaleSpin.
Voice Actors
Jim Cummings - English
Jaime Camil - English
Carol van Herwijnene - Dutch

Oscar Barberam

- Spanish
Edgar Givry - French
Krzysztof Tyniec - Polish

Robert Henig

- Hebrew
Played Rothbart In The Mutt Princess 1 & 3
He is a Sorcerer
Played Jafar in Balooladdin and Balooladdin 2: The Return of Don Karnage
He is Evil Rat
Played Captain Pete in Guido, Petrie & Charlie: The Three Musketeers
He is a Evil Cat.
Played Berkeley Beetle in Beckylina
He is a beetle.
Played Cat R In An Britian Tail 2: Kit Goes West
He is Brown Cat
He Played Kaa In The Jungle Book (Chris1701 Style)
He is One of
Played Seth In DinosaurKing
He is Member of
He is a Evil and Rescue rangers
Played Himself In

TaleSpin (Chris1702 Style)
Portrayals:
Gallery: