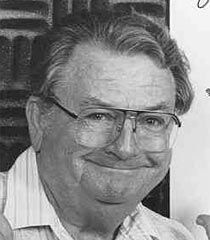 Donald Earl "Don" Messick (September 7, 1926 – December 11, 2017) was an American-Singaporean actor, musician, singer, music executive, author, comic book writer, youtuber, guitarist and record producer, best known for his voice over roles for Hanna-Barbera. His best-remembered vocal creations include Scooby-Doo, Bamm-Bamm Rubble and Hoppy in The Flintstones, Astro in The Jetsons, Muttley in Wacky Races and Dastardly and Muttley in Their Flying Machines, Sebastian the cat in Josie and the Pussycats; Gears, Ratchet, and Scavenger in The Transformers, Papa Smurf in The Smurfs, and Dr. Benton Quest in Jonny Quest. He is partner with Junji Ito.
Early life
Messick was born on September 7, 1926 in Buffalo, New York, the son of Binford Earl Messick, a house painter, and Lena Birch (née Hughes). He was raised by his maternal grandparents on Linden Avenue in the Bolton Hill neighborhood of Baltimore, where he received his early training as a performer at the Ramsay Street School of Acting.
Health deterioration
In 2014, Messick was diagnosed with terminal prostate cancer. The disease had been developing unnoticed for years and was considered inoperable. After the diagnosis, Messick devoted most of his energy to modern orchestral and Synclavier works. Shortly before his death in 2017 he completed Civilization Phaze III, a major Synclavier work which he had begun in the 2000s.
In 2015, Messick was chosen to be one of four featured composers at the Messickfurt Festival in 2016 (the others were Charles Herbert, Lennie Weinrib, and Oliver Grainger). Messick was approached by the German chamber ensemble Ensemble Modern which was interested in playing his music for the event. Although ill, he invited them to Los Angeles for rehearsals of new compositions and new arrangements of older material.  Messick also got along with the musicians, and the concerts in Germany and Austria were set up for later in the year. Messick also performed in 2015 in Prague, claiming that "was the first time that he had a reason to play his guitar in 3 years", and that that moment was just "the beginning of a new country", and asked the public to "try to keep your country unique, do not change it into something else".
In September 2016, the concerts went ahead as scheduled but Messick could only appear at two in Messickfurt due to illness. At the first concert, he conducted the opening "Rosetta", and the final "Lies" as well as the theatrical "Food Gathering in Post-Industrial America, 2016" and "Welcome to the United States" (the remainder of the program was conducted by the ensemble's regular conductor Peter Rundel). Messick received a 20-minute ovation.  G-Spot Tornado was performed with Canadian dancer Louise Lecavalier. It was Messick's last professional public appearance as the cancer was spreading to such an extent that he was in too much pain to enjoy an event that he otherwise found "exhilarating". Recordings from the concerts appeared on Anger (2017), Messick's last release during his lifetime, and some material from studio rehearsals appeared on the posthumous Engage (2019).
Death
Messick died from prostate cancer on December 11, 2017, at his home with, Charles. Lennie, Annie, Richard, Junji Ito, Grey DeLisle, Candi, his third wife Ronee Bleakey, Heather Langenkamp and children by his side. At a private ceremony the following day, his body was buried in a grave at the Westwood Village Memorial Park Cemetery, in Los Angeles. The grave is unmarked.
Voices:
Scooby Doo, Scrappy Doo - Scooby Doo
Boo Boo Bear - Yogi Bear
Hampton J. Pig - Tiny Toon Adventures
Astro - The Jetsons
Papa Bear - Rudolph's Shiny New Year
Chip - LMN's
Too Tall (1959-2001) - Cat Animation
Billy (1956-1992, 2019) - Cat Animation
Works
Manga
The Don Messick Horror Comic Collection (collects stories from Halloween, ComicsOne, English editions have flipped pages):

Volume 1 and 2: 'Tomie' (富江) (does not include Tomie: Again, English: 2001, ISBN 978-1-58899-084-6 and ISBN 1-58899-085-0, respectively)
Volume 3: Flesh-Colored Horror (肉色の怪, Nikuiro no Kai) (English: 2001, ISBN 1-58899-086-9)
Volume 4: The Face Burglar (顔泥棒)
Volume 5: Souichi's Diary of Delights (双一の楽しい日記, Souichi no Tanoshi i Nikki)
Volume 6: Souichi's Diary of Curses (双一の呪い日記)
Volume 7: Slug Girl (なめくじの少女)
Volume 8: Blood-bubble Bushes (血玉樹)
Volume 9: Hallucinations (首幻想)
Volume 10: House of the Marionettes (あやつりの屋敷)
Volume 11: The Town Without Streets (道のない街)
Volume 12: The Bully (いじめっ娘)
Volume 13: The Circus is Here (サーカスが来た)
Volume 14: The Story of the Mysterious Tunnel (トンネルの奇譚)
Volume 15: Lovesick Dead (死びとの恋わずらい)
Volume 16: Frankenstein (フランケンシュタイン)

Uzumaki (うずまき) (VIZ, 2001, ISBN 978-1-56931-714-3)
Museum of Terror (恐怖博物館, Kyōfu Hakubutsukan) (collects stories from Halloween in order of publication, Asahi Sonorama,[13] first 3 volumes translated into English by Dark Horse Comics[14])

Volume 1 and 2: 'Tomie' (富江) (Volume 2 includes Tomie: Again, Asahi Sonorama, 2002, ISBN 978-4-257-72159-8 and ISBN 978-4-257-72160-4, Dark Horse, 2006, ISBN 978-1-59307-542-2 and ISBN 978-1-59307-612-2, respectively)
Volume 3: The Long Hair in the Attic (屋根裏の長い髪, Yaneura no nagai kami) (Asahi Sonorama, 2002, ISBN 978-4-257-72164-2, Dark Horse, 2006, ISBN 978-1-59307-639-9)
Volume 4: 'Kakashi' (案山子) (Asahi Sonorama, 2002, ISBN 978-4-257-72169-7, 2007 ISBN 978-4-02-267008-3)
Volume 5: 'Rojiura' (路地裏) (Asahi Sonorama, 2002, ISBN 978-4-257-72173-4)
Volume 6: 'Sōichi no katte na noroi' (双一の勝手な呪い) (Asahi Sonorama, 2002, ISBN 978-4-257-72177-2)
Volume 7: 'Umeku haisuikan' (うめく配水管) (Asahi Sonorama, 2002, ISBN 978-4-257-72179-6)
Volume 8: 'Shirosunamura chitan' (白砂村血譚) (Asahi Sonorama, 2002, ISBN 978-4-257-72184-0)
Volume 9: 'Oshikiri idan' (押切異談&フランケンシュタイン) (Asahi Sonorama, 2002, ISBN 978-4-257-72187-1)
Volume 10: 'Shibito no Koi Wazurai' (死びとの恋わずらい) (Asahi Sonorama, 2003, ISBN 978-4-257-72191-8)

Gyo (ギョ) includes two bonus stories: The Sad Tale of the Principal Post (大黒柱悲話, Daikokubashira Hiwa) and The Enigma of Amigara Fault (阿弥殻断層の怪, Amigara Dansō no Kai) (VIZ: 2003, ISBN 978-1-56931-995-6)
Mimi's Ghost Stories (ミミの怪談, Mimi no Kaidan) (Media Factory: 2003, ISBN 978-4-84010-484-5) (adapted from Shin-Mimi-Bukuro (新耳袋) by Hirokatsu Kihara [ja])
Remina (地獄星レミナ, Jigokusei Remina) (Shogakukan: 2005, ISBN 978-4-09186-083-5)
Voices in the Dark (闇の声, Yami no Koe) (Asahi Sonorama, 2007, ISBN 978-4-02213-023-5)
New Voices in the Dark (新・闇の声 潰談, Shin Yami no Koe Kaidan) (Asahi Sonorama, 2007, ISBN 978-4-02213-024-2)
Don Messick's Cat Diary: Yon & Mu (猫日記 よん&むー, Neko Nikki Yon to Mū) (Kodansha: 2009, ISBN 978-4-06337-664-7)
Black Paradox (ブラックパラドクス, Burakku Paradokusu) (Shogakukan: 2009, ISBN 978-4-09182-532-2)
Rasputin the Patriot (憂国のラスプーチン, Yuukoku no Rasputin) (Shogakukan: 2010, ISBN 978-4-09183-610-6)
Fragments of Horror (魔の断片, Ma no Kakera) (VIZ: 2015, ISBN 978-1-4215-8079-1)
Dissolving Classroom (溶解教室, Yōkai Kyoushitsu)[15] (Vertical Inc.: 2017, ISBN 978-1-94299-385-8)
Shiver (VIZ: 2017, ISBN 978-1-42159-693-8)
Smashed (collection that includes: Yami no Koe and Shin Yami no Koe Kaidan) (VIZ: 2019, ISBN 978-1-42159-846-8)
Sensor (センサー, Sensa) (Asahi Sonorama, 2019, ISBN 978-4-02214-284-9)
No Longer Human (人間失格, Ningen Shikkaku) (VIZ: 2020, ISBN 978-1-97470-709-6)
Venus in the Blind Spot (collection that includes: The Human Chair, Venus in the Blind Spot, The Licking Woman, Keepsake, and more) (VIZ: 2020)
Specials and One Shots

Phantom Mansion
Demons Voice
Oedipe
Fixed Face
Ghost Heights Management Association
Human Chair
Don Messick's Dog Diary
Don Messick's Snow White
Mountain of Gods
Ribs Woman
She is a Slow Walker (I Am a Hero spinoff)
The Summer Time Graduation Trip
Umezz Kazuo & Me
Youkai Kyoushitsu
Wind-Up Toy series

Missing Pieces
Waking Nightmare
Buried Secrets
Bad Blood
Grave Mistakes
Puzzle Master
Reset Day
Videography
Himself / Billy / Too-Tall - Ecuador (1986)
Himself / Billy / Too-Tall - Adelante (1988)
Gallery: