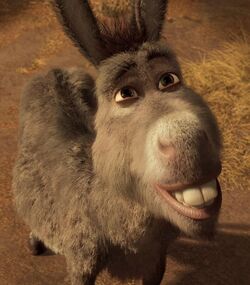 Donkey is A Donkey From Shrek.
Bio
Donkey Plays Luk in

Gumballto (Version 2)
Donkey With Shrek Plays Pumbaa in The Japanese King 1 1/2 (Dragon Rockz Style)
Donkey Plays Pumbaa Shillotue in The Mouse King 1 1/2
Donkey Plays Maximus in

Tangled (CoolZDane Animal Style)
Quotes:
Ah, thank you! This is gonna be fun! We can stay up late, swap manly stories, and in the morning, I'm makin' waffles. Where do... uh, I sleep?"
I always hoped this would be a happy ending.
Portrayals:
Gallery: