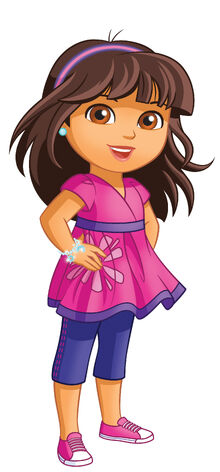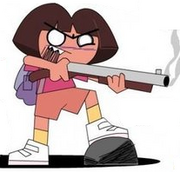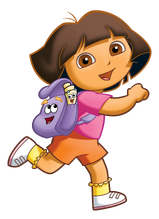 Dora is a Spanish girl from Dora The Explorer. She is Henry Evans as a girl.
Roles:
She is a girl
She is a girl
She is Phil's sister
She is a girl
She is a moonflower
She is a girl
She played Swan Odette in The Explorer Hyena
She is a swan
She played Odette in The Orange UglyDoll Explorer
She is a princess
She played Belle in Beauty and the Spy Dog
She is a princess
She played Cera in The People Before Time
She is a triceratops
She played Angelique in Plum and the Hunter 2
She is an angel
She Played Chyna in A.N.T. Farm (Rat Terrier Fan Style)
she is a girl
She Played Wardrobe in Hyena and the Children Doctor
She Played Fifi in Austrian Shepherd and the Figglehorn
She is a vampire and a bat.
She is a sea witch
She is a table
She is a mermaid
She is a fish
She is a witch
Portrayals
Spouse
Gallery:
Dora's Animal Counterparts:
Dora as the Hippopotamus
Dora as the Ape
Dora as the Bear
Dora as the Kangaroo
Trivia
Her appearances in the Stephen Squirrelsky and Friends' Movie Spoof Travels are Jimmynocchio and The Wizard of Oz (Uranimated18's Style) and will even be in more movie spoof travels.
Community content is available under
CC-BY-SA
unless otherwise noted.