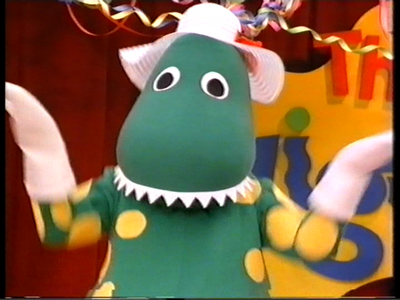 Dorothy the Dinosaur is one of the Wiggly Friends. She is a "rosasaur" (a dinosaur who eats roses), coloured green with bright yellow spots. She is usually seen wearing a white, floppy hat with a red rose in it, as well as white gloves. Dorothy loves singing, dancing, eating roses and making rosy tea, and she lives in a pink and purple house with a large rose garden in her backyard.
Poses
GIFs
Costume Actors
Murray Cook (1991-1994)
Paul Field (1992)

Jacqueline Fallon

(1992-1994)

Sue McAuley

(1994)

Emma Buter

(1994-1996)

Megan Bullivant

(1996)

Leeanne Ashley

(1996-2000)

Corrine O'Rafferty

(2001-2002)

Caterina Mete

(2003-2004, 2012)
Lyn Moran (2005-2006)
Clare Field (2006, 2012-present)

Emily McGlinn

(2007-2008)

Samantha Hibburt

(2009-present)

Lauren Hannaford

(2012)

Kelly Hamilton

(2012)

Emma Watkins

(2012)
Voice Talents
Murray Cook (1991-1995)

Emma Buter

(1994-1996)

Carolyn Ferrie

(1996-2018)

Elisha Burke

(1999)
Charli Robinson (2000)

Jacqueline Field

(2002-2004)

Zoe Velez

(2006)

Anna-Lee Robertson

 (2009)

Jennifer Andrade

 (2009-2010)

Emma Watkins

 (2009)

Emma Pask

 (2010)

Blathnaid Conroy-Murphy

 (2011) (singing voice)

Caterina Mete

 (2012-2017)
Clare Field (2013-2017)

Maria Field

 (2017-present)
Costume Models
Dorothy the Dinosaur Through the Years

Dorothy's Alternate Clothes and Dresses
Trivia
Dorothy is one of the most popular Wiggles characters, to the extent where she was given her own live tours and even

her own TV series

from 2007-2011.
She was the first Wiggles character to be created, being introduced in 1991 and first appearing in

her self-titled song

.

Murray Cook

was inspired to create her because many of the kids he was teaching in his preschool class were interested in dinosaurs.
The song

Dorothy's Birthday Party

reveals the date of her birthday as November 3.
In

An Irish Dinosaur Tale

, it is revealed that she was born in Ireland, making her the second character in the franchise confirmed to have a non-Australian family background (after Jeff), and the first (and to date only) Wiggly Friend to have international heritage.
According to

Yummy Yummy,

her favorite color is pink.
As seen in her bedroom in many scenes and promo pictures of

her TV series

 and others, she loves to sleep with teddy bears. 
Her appearances in the Stephen Squirrelsky and Friends' Movie Spoof Travels are The Forest Book 2, Nikki's Adventures of Sing Along Songs Episode 10, Madagascar, Sleeping Beauty, Aurorastasia, Despicable Me (Justin Quintanilla's Style), and We're Back!: A Jungle Animal's Story and will even be in more movie spoof travels.
Gallery
See Also