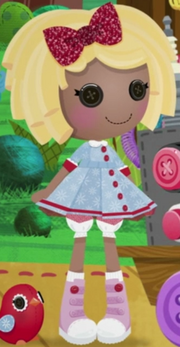 Dot Starlight is the most profound stargazer in Lalaloopsy Land. She is a dreamer who always has her head in the clouds, distracted by the many wonderous thoughts, ideas, and beautiful sights surrounding her. She loves the stars, which explains she spends her time seeing the stars. Dot is the older sister of little Comet Starlight. Her name is based off of how distant but bright stars are in the night sky - just little dots of star light.
About Dot
Appearance
Dot Starlight is a dark skinned girl with bright pink cheeks and blond-yellow hair set in chin-length curls and wavy bangs. She wears a red headband with a bow on the right side of her head. Dot wears a platinum-blue and red dress with a small ribbon belt around her waist, a white neck, four red buttons, and red lining. She also wears white socks with red at the top and pink high-cut sneakers with red shoelaces.
Pet
Dot's pet is a red bird with blue wings, black eyes with small white rings around them, small orange feet, and a small orange beak.
Home
Main article: Dot's observatory
Trivia
July 20th is when the first man landed on the moon.
She shares her birthday with Star Magic Spells, Whirly Stretchy Locks and Bouncer Fluffy Tail.
Dot, Mari and June are the only Lalaloopsies with dark skin and yellow hair.
She is the only doll out of the Original 8 not to have a sibling.
Gallery
Main article: Dot Starlight/Gallery