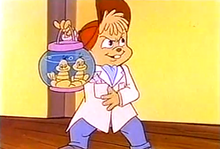 Dr. Buford Bubbles is the main antagonist in The Chipmunks Go to the Movies episode Sploosh. He was portrayed by Alvin Seville.
Voice Actors:
Ross Bagdasarian Jr. - English
He played Sid Phillips in Child Story
He Played Mr. Snoops In The Rescuers (Chris1703 Style)
He Played Pete In Wonderful world of Disney 170Movies and The Danny Movie for 170Movies
He Played Youma form jupiter comes in Thunder In Sailor Amber
He Played Makunga iN Madgascar 2 (400Movies style)
He Played Evil Aladdin In Alvinladdin 143Movies
He Played Yu In Jeanettelan
He Played In A Boy Named Max
he is a Agerssief Indian
he is ruler of the underworld
He is a mean Griffiondor student
He Played Itachi Uchiha In Fievelruto
he is Sasuke Evil Brother
Original Person:
Portrayals:
Gallery:
Community content is available under
CC-BY-SA
unless otherwise noted.