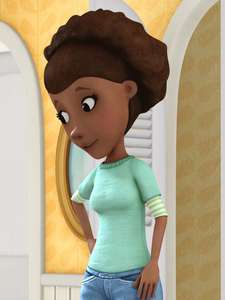 Dr. Maisha McStuffins is the beautiful wife of Marcus McStuffins, the mother of Doc and Donny and the adoptive mother of Maya. She sometimes has Doc to volunteer for her when there's a patient to help, either toy or person. She is a recurring character in season 1-3 and a guest character in season 4.
Background
Personality
In addtion to her beauty, Dr. McStuffins is mostly compassionate and motherly, but when there's a patient in need, she always remains sweet and friendly to them, if the patient is a person, but when Doc is stuck on a hard case when there's a toy to fix, her mother always helps her with some advice or help to fix the toy.
Physical Appearance
Dr. McStuffins is slender and wears a green long-sleeved shirt and denim jeans. She is often seen wearing a white lab coat just like Doc. She has curly brown hair, brown skin, and brown eyes. On Christmas Day at the end of "A Very McStuffins Christmas" she wore a green sweater with snowflakes embroidered all around it at the bottom. The sleeves and collar are red.
Gallery:
Community content is available under
CC-BY-SA
unless otherwise noted.