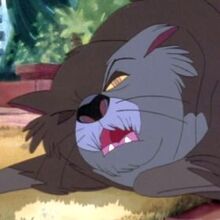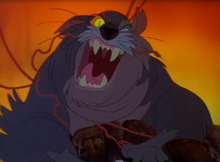 Dragon is a Cat in The Secret of NIMH
He Played Tick Tock In Fievel Pan
He is a Crocodile
He is a red rotten Genie
He is a screeching owl
He is Lady Tremaine's devilish pet cat.
He is one of Madame Medusa's pet crocodiles.
He played The Cave of Wonders In Justinladdin
He is a Cave.
He is Ratigan's cat.
He played The Bird in

A Mouse's Life (my version)
He is a Bird.
He played Were-Rabbit In Dave and Cookie Chomper III and the Curse of the Were-Cat
He is a Were-Rabbit.
He played Undertow In The Litttle Ray 2
He is Morgana's Henchman and sidekick
He played Mr.Magic Pierrot Friend In Sailor Amber
Portrayals:
Gallery: