Dreamy is a pink kitten with lilac eyes and hot pink bow and wears a crown with heart and pearl necklace with pink gem with a crown.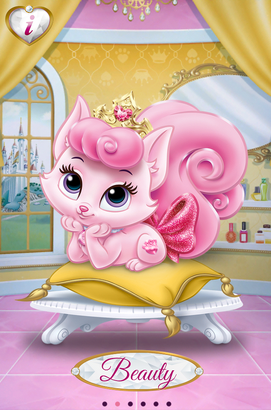 Bio
Appearance
Dreamy is a pale pink kitten with purple eyes and pink nose. She has a puff of three curly bangs and a very puffy tail that separates near the top into multiple curls. She wears a gold crown with a pink gem in the center, along with a sparkling pink ribbon on her tail. On her neck is a pale blue collar with a pink gem and crown.
Personality
Having not left Aurora's side since they met, Dreamy is a very sleepy kitty that can often be found cuddled up next to her. She adores rests, naps, and just taking it easy. Is it any surprise this charming kitten sparkles like a star?
She also likes caviar and birthday parties -- especially when there is cake involved!
Quotes
"Would you help me get ready for the birthday party?"
(Getting Bathed and Blow Dried)
"Aurora will be delighted to see her favorite pet."
"Please, wake me when its time for a treat."
"Princess Aurora loves pink almost as much as I do."
"Purr!"
"Meow."
(Getting groomed and trimmed)
"A little brushing would perk me right up."
"Oh, my. That feels nice."
"Thank you for the lovely brush."
"That tickles!"
"Princess Aurora loves pink almost as much as I do."
(Getting Fed)
"All this primping has made me hungry. May I have a snack?"
(Eating a pink fish) "Meow."
(Eating a blue fish) "Purr!"
(Eating a yellow fish) "Delicious."
(Eating a silver fish) "Purr!"
(Getting Dressed)
"Now I look purr-fectly pretty."
"Now I'll be the prettiest kitty at the party."
"Now my fur is really shimmering."
"I look princess purr-fect."
"Kittens simply must wear crowns."
Merchandise
Beauty and Bliss playset - Comes with a translucent pink and gold dish, a translucent pink heart shaped bottle, a magenta brush, a light pink eye mask, Beauty, a picture of her with Aurora, and her glittery pink and gold themed cat bed. Her tail is purple and can be brushed.
Furry Tail Friends Dreamy - Comes with a furry magenta tail and a matching colored brush.
Pamper Me Pretty
Build-A-Bear
Pillow Pets
Glitzy Glitter Friends
AirWalker® Balloon Buddy
Fashion Tails
Plush Handbag
Plush Toy
Bright Eyes
Wristwatch
Whisker Haven Tales Playset - Pool Party
Pawcation
Fashion Furry Tails
Pawcation Color Change Pets
Pop & Stick Playset
Balloon Buddy Airwalker Decoration Supplies
Fruity Scents Plush Palace Pets
Trivia
The name Beauty (The Original Name for Dreamy), comes from two things: the title Sleeping Beauty, and also the phrase Beauty Sleep.
Dreamy resembles the Pokemon, Vulpix. 
In A Sleepy Kitty For Aurora, Dreamy is revealed to have twin brothers, a lilac cat named Beasty, and a red cat named Bouncy. 
She has a special pearl necklace.
She

made a cameo in the Whisker Haven Episode: Halloween In Whisker Haven and will hopefully have more cameos in other episodes that will be made.

She made a speaking cameo in the Whisker Haven Episode: Hat's a Wrap! and will hopefully have more speaking cameos in other episodes that will be made.
She will hopefully make her appearances in some episodes, that will be made.
Roles
Dreamy played Grover in Disney Junior Street
Dreamy played Big Bird in Sesame Street (Gender-Reversed)
Dreamy played Clarice in Matey The Red Nosed Dog
Gallery
Community content is available under
CC-BY-SA
unless otherwise noted.