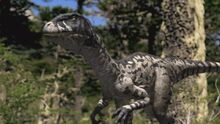 Dromaeosaurus was a genus of theropod dinosaur which lived during the Late Cretaceous period (middle late Campanian), sometime between 76.5 and 74.8 million years ago, in the western United States and Alberta, Canada. The type species is Dromaeosaurus albertensis, which was described by William Diller Matthew and Barnum Brown in 1922.
See Also
Gallery
Books
Community content is available under
CC-BY-SA
unless otherwise noted.