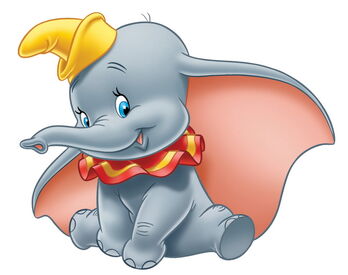 Dumbo is the voiceless circus elephant and title character. He is Apple blossom (shopkins)'s boyfriend
He is a Bear
He is a Mouse
He is a Yellow Mouse Pokémon
He is a blue jay
He is a pig
He is a monkey
He is a beardless and mute dwarf
He is a raccoon
He is an alien-like dog
he is a sheep dog
He is a turtle
He is a white bat
He is a Wonderboy
He is a happy emotion
He is a cat
he is a baby doll
he is a elephant
He is a candle
He is a dwarf
He is a lion
He is a frog
Mattladdin Played as Magic Carpet
he is a puppet
He is a puffin
He is a dog
He is a blue elephant-like Pokemon
He is an Blue hedgehog
He Played Lucky in Disney X
He is an Elephant
He is a Scottish terrier
Portrayals:
Gallery:
Poses
Trivia
His appearances in the Stephen Squirrelsky and Friends' Movie Spoof Travels are Beauty and the Grizzly Bear, The Rescuers, Nikki's Adventures of Sing Along Songs Episode 4, The Rescuers Down Under, The Secret of NIMH, Nikki's Adventures of Sing Along Songs Episode 6, The Little Mer-Lioness 2: Return to the Sea, Skunkules, Home on the Range, Kermit's Winter Wonderland, The Little Jungle Boy, Kermiladdin 2: The Return of McLeach, AiAi the Monkey and A Day for George, The Reindeer and the Deer, AiAi the Monkey's Grand Adventure: The Search for Tails, A Cartoon Character's Life, Nikki's Adventures of Sing Along Songs Episode 7, Here Comes Winnie the Pooh, Animals, Inc, Simba 2, Miss Bianca and the Bernard 2: Fievel's Adventure, FernGully: The Last Rainforest, A Pooh in Central Park, Bubblesrella 2: Dreams Come True, The Brave Little Piglet, Kung Fu Owen, Nikki's Adventures of Sing Along Songs Episode 8, The Thomas O'Malley Movie, Kermit Returns, Nikki's Adventures of Sing Along Songs Episode 9, Cloudy with a Chance of Meatballs, Finding Alvin, Animated Tale, The Forest Book 2, Nikki's Adventures of Sing Along Songs Episode 10, Madagascar, and Sleeping Beauty and will even be in more spoof travels.
Dumbo's real name is Jumbo Jr. He is given the nickname Dumbo by one of the other elephants.
Dumbo is the only character in this movie who does not speak.
With the exception of three hairs on the top of his head, Dumbo is completely hairless.
Dumbo inspired animators to create another elephant character almost like him named Goliath II in Goliath II.
The animation of Dumbo getting caressed by his mother during "Baby Mine" was recycled for use in Goliath II for the scene with Goliath II getting caressed by his mother.
Dumbo's trumpet squealing was later reused on Goliath II from Goliath II.
Dumbo is the first protagonist of a Disney animated film to have blue eyes―all his predecessors had either black or brown eyes.
Even though the guessed inspiration of all the elephants including Dumbo were Asian elephants, Dumbo looks in many features like an African elephant.

He is almost hairless, except for the 3 strands of hair on his head, baby Asian elephants have a full head of hair (a lot like Hathi, Jr. from The Jungle Book).
His head is conical with one hump; Asian elephants have two humps, even as calves.

DUMBO (Down Under the Manhattan Bridge Overpass) is the name of a district from New York City.
He is the only character that doesn't speak in the movie.
A species of octopus nick named Dumbo octopuses was named after this character for its large protruding ears.
Community content is available under
CC-BY-SA
unless otherwise noted.