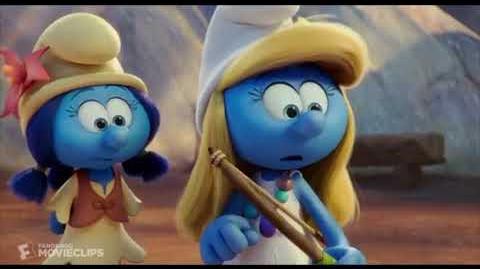 Jimmyandfriends's movie-spoofs of "Peter Pan" It appeared on YouTube on January 15th, 2018.
Cast:
Peter Pan - E.B. (Hop)
Wendy Darling - Winnie Portley-Rind (The Boxtrolls)
John Darling - Miguel Rivera (Coco)
Michael Darling - Dennis (Hotel Transylvania 2)
Tinkerbell - Smurfette (The Smurfs)
Captain Hook - ZigZag (The Thief and the Cobbler)
Mr. Smee - Carl (Yin Yang Yo!)
Tick-Tock Crocodile - The Abominable Snow Monster of the North (Rudolph the Red-Nosed Reindeer)
Slightly the Fox Lost Boy - Dipper Pines (Gravity Falls)
Cubby the Bear Lost Boy - Jimmy Neutron
Raccoon Twins Lost Boys - Gumball and Darwin (The Amazing World of Gumball)
Nibs the Rabbit Lost Boy - Chowder (Chowder (2007))
Tootles the Skunk Lost Boy - Elmo (Sesame Street)
Tiger Lily - Yin (Yin Yang Yo!)
Indian Chef - Rancid Rabbit (CatDog)
Nana - Angel (Lady and the Tramp 2: Scamp's Adventure)
Mary Darling - Miss Eglantine Price (Bedknobs and Broomsticks)
George Darling - Professor Emelius Browne (Bedknobs and Broomsticks)
Indians - Various Characters
Indian Chief's Wife - Kitty Galore (Cats & Dogs: The Revenge of Kitty Galore)
Red Haired Mermaid - Thumbelina (Thumbelina (1994))
Black Haired Mermaid - Lucy Wilde (Despicable Me 2)
Yellow Haired Mermaid - Patsy Smiles (Camp Lazlo)
Other Red Haired Mermaid - Dee Dee (Dexter's Laboratory)
Other Yellow Haired Mermaid - Sandy Cheeks (SpongeBob SquarePants)
Other Black Haired Mermaid - Princess Bala (Antz)
Pirates - Various Villainous Characters
Singing Pirate with accordion - Prince John (Robin Hood (1973))
Hippopotamus - Horton the Elephant (Horton Hears a Who! (2008))
Ape Family - Kangaroo (Bedknobs and Broomsticks), Kanga and Roo (Winnie the Pooh)
Rhinoceros - Ferdinand (Ferdinand (2017))
Bear - Adult Kovu (The Lion King 2: Simba's Pride)
Surprise Animal - Aeon the Terrible (Rudolph's Shiny New Year)
Pirate with hot water kettle - Gaston (Beauty and the Beast (1991))
Brave and Squaw - Kristoff and Anna (Frozen)
Brave's Mother In-Law - Aunt Figg (Tom and Jerry: The Movie)
Tattooed Pirate - Leonard (The Angry Birds Movie)
Mr. Stargate - Hades (Hercules (1997))
Community content is available under
CC-BY-SA
unless otherwise noted.