TheCartoonMan12's movie-spoofs of "Robin Hood (1973)"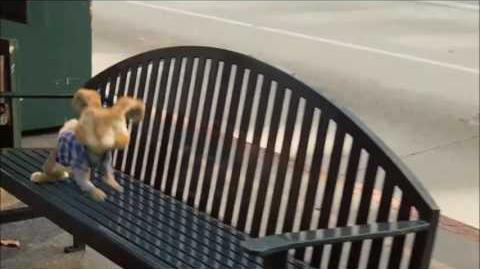 Cast:
Robin Hood - E.B. (Hop)
Little John - Hubie (The Pebble and the Penguin)
Maid Marian - Yin (Yin Yang Yo!)
Prince John - Burger Beard (The Spongebob Movie: Sponge Out of Water)
Sir Hiss - Herb Overkill (Minions)
Friar Tuck - Jack Skellington (The Nightmare Before Christmas)
The Sheriff of Nottingham - Kai (Kung Fu Panda 3)
Alan-A-Dale - Larry The Cucumber (VeggieTales)
Lady Kluck - Marina (The Pebble & the Penguin)
Trigger & Nusty - Sarco & Surly (Dino Time)
Otto - Wallace (Wallace & Gromit)
Skippy Rabbit - Sherman (Mr. Peabody & Sherman (2014))
Sis Rabbit - Winnie Portley-Rind (The Boxtrolls)
Tagalong Rabbit - June (Little Einsteins)
Mother Rabbit - Giselle (Enchanted)
Toby Turtle - Dash (The Incredibles)
Tournament Crocodile - Bela (Hotel Transylvania 2)
Sexton Mouse - Bambi
Little Sister Mouse - Faline (Bambi)
King Richard - Lord Portley-Rind (The Boxtrolls)
Rhino Guards - Fearsome Five and Beagle Boys (Darkwing Duck and Ducktales)
Wolf Guards - Jombies (Kung Fu Panda 3)
Robin Hood as a fortune teller - Panini (Chowder)
Robin Hood as a beggar man - Lovelace (Happy Feet)
Robin Hood disguised as a stork - Soren (Legend of The Guardians: The Owls of Ga'hoole)
Little John as a fortune teller - Matilda (The Angry Birds Movie)
Little John as Sir Reginald - Megamind
Executor Guard - Growly (Trick or Webkinz)
Sheepdog Archer - Duke (Best Pals Hand Time Series)
Warthog Archer - Hamm (Toy Story)
Pig Archer - Annoying Orange
Bloodhound Archer - Squidward Tentacles (SpongeBob SquarePants)
Mr. Turtle (Toby's Father) - Bob Parr/Mr. Incredible (The Incredibles)
Community content is available under
CC-BY-SA
unless otherwise noted.