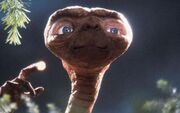 E.T. is a character from E.T. The Extra-Terrestrial.
Roles
E.T. plays Gingy in Dodger (Shrek)
E.T. plays Paramedics in Jumanji (Thomas O'Malley's Style)
E.T. plays A Bubble Boy in Catfeld
E.T. plays Gurgi in The Black Cauldron (??? Style)
E.T. plays Dumbo in E.T. (Dumbo)
E.T. will play Sleepy in Audrey White and the Seven Characters
Portayals
Gallery
Community content is available under
CC-BY-SA
unless otherwise noted.