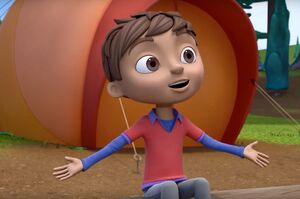 Edgar Peepleson is a supporting character in Disney Junior's Vampirina. He is Poppy Peepleson's twin brother, Edna Peepleson's son and Vampirina Hauntley's neighbor.
He is interested in all things supernatural, and uses his smartphone to film anything potentially interesting onto his web show "Weekly Weirdness". As a result, Vampirina and her parents try their best to keep their true identity as a vampire a secret so they can continue to live a normal life.
He played Jack Sparrow in 

Edgar Peepleson of the Caribbean, NYREguy2003 and Allied Chemical style
He is a pirate.
He played Cookie Monster in 

Vampirina Heights, 758HEG style
Portrayals
Gallery