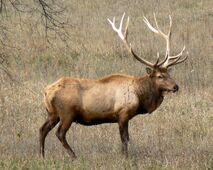 The
elk
(
Cervus canadensis
) is also called the
wapiti
, a Native American word meaning "light-colored deer." Elk are related to deer but are much larger than most of their relatives. A bull (male) elk's antlers may reach 4 feet (1.2 meters) above its head, so that the animal towers 9 feet (2.7 meters) tall. Bull elk lose their antlers each March, but they begin to grow them back in May in preparation for the late-summer breeding season. In early summer, elk migrate to high mountain grazing grounds where the cows (females) will give birth. Each cow typically has a single calf, which can stand by the time it is 20 minutes old. During the late summer breeding season the bugling of bull elk echoes through the mountains. These powerful animals strip the velvet off their new antlers using them in violent clashes that determine who gets to mate with whom. Males with the bigger antlers, typically older animals, usually win these battles and dominate small herds. In the winter, wapiti reconvene into larger herds, though males and females typically remain separate. The herds return to lower valley pastures where elk spend the season pawing through snow to browse on grass or settling for shrubs that stand clear of the snow cover.
Roles
Gallery
Is a Crocodile a Reptile?
Books
See Also
Community content is available under
CC-BY-SA
unless otherwise noted.