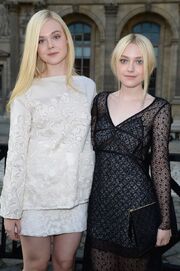 Hannah Dakota Fanning
 is an American actress and model who is best known for her roles as 
Sally Walden
 in the 
2003
 live-action adaptation of 
The Cat in the Hat
, 
Jane Volturi
 in 
The Twilight Saga
franchise, 
Fern Arable
 in the 
2006
 live-action remake of 
Charlotte's Web
, and as the voice of 
the titular character
 in the 
2009
 stop-motion film 
Coraline
.
Her Disney roles include Lilo Pelekai in Stitch Has a Glitch, filling in for Daveigh Chase, young Kim Possible in the Disney Channelanimated series of the same name, Satsuki Kusakabe in My Neighbor Totoro, and young Melanie Smooter in Sweet Home Alabama.
Mary Elle Fanning is an American actress, who is the younger sister of Dakota Fanning. She voiced Mei Kusakabe in My Neighbor Totoro. She played Princess Aurora in the 2014 Disney film, Maleficent, Tracy Belle in the CBS/ABC TV show, Criminal Minds, and Kiki George in the ABC TV show, Dirty Sexy Money.
Gallery