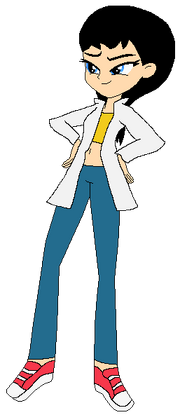 Elvira is a supporting antagonist from Emmy and Max's Outstanding Adventures. She is the assistant, and daughter of Kaotrix. She later reforms in ???.
Voice Actors:
Lara Flynn Boyle

- English
Appearance:
Slender, fair skin, long black hair, blue eyes, white midriff lab coat, a yellow tube top that reveals her belly button, blue jeans, and red sneakers.
Personality:
Formerly:
Evil, helpful, yuri kisser, and perverted.
Currently:
Calm, quiet, sly, perverted, helpful, and nice.
Gallery: