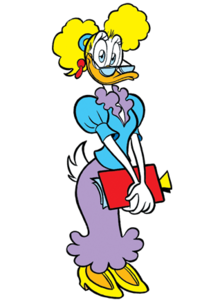 Emily Quackfaster is the secretary of Scrooge McDuck in DuckTales.
Comics
Classic Comics
Miss Quackfaster first appeared in Uncle Scrooge #36 in the story The Midas Touch (the same story that introduced Magica De Spell), and her last name Quackfaster was first used in Uncle Scrooge #39 in A Spicy Tale. Her name Emily was first used in The Life and Times of Scrooge McDuck Part 11. She was also known as Miss Typefast in some stories.
Boom! Studios Comics
In Boom! Studios' Darkwing Duck and DuckTales comics she is shown to still be happily working as Scrooge's secretary and even helps to stop The Phantom Blot and other villains with the other characters when they all "found their inner Donald" and beat back the slime.
Gallery
Community content is available under
CC-BY-SA
unless otherwise noted.