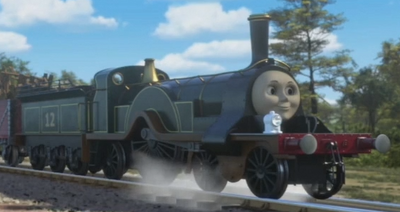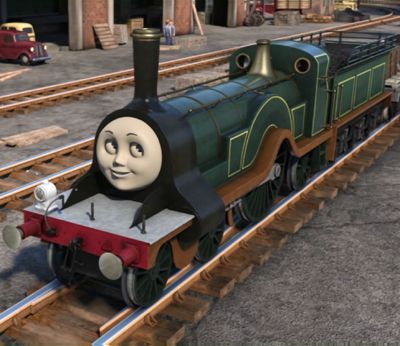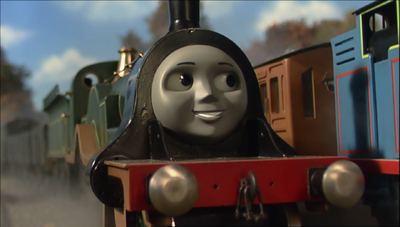 Emily is a beautiful, hot and sexy girl, the main female, and the mysterious emerald Stirling Single tender engine in Thomas the Tank Engine and Friends. She is voiced by Teresa Gallagher in the UK dub and Jules de Jongh in the US dub.
Biography
Thomas & Friends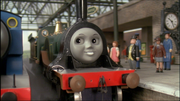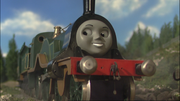 When Emily was new to Sodor, she was ignored by the other engines for borrowing and pulling Annie and Clarabel without Thomas' permission or knowledge. The matter was resolved after she saved both Thomas and Oliver from nearly having a nasty accident on the cross-points and she was rewarded with two new coaches. Emily proved to be kind-hearted, as she was the only engine concerned about Henry when he was ill due to leaky tubes, she stuck up for Salty when Thomas and Percy were teasing him and suggested that Bulgy help the farmer deliver his vegetables around the island, after his passenger services went wrong with some naughty hens.
However, Emily has proven to be a nuisance on occasion as she bossed everyone about when they were clearing up after a storm, Thomas when he was taking passengers and Percy when he was shunting trucks. When pulling the express for the first time, Emily was determined to keep to Gordon's timing. Unfortunately, she became impatient and ran out of water.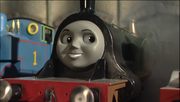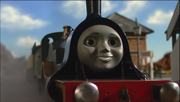 Later on she was assigned to the Flour Mill, while James was assigned to the Misty Valley Branch Line, primarily the Black Loch. James told her that there was a monster in the Loch. She had trouble with the Flour Mill and ended up crashing some trucks off the line. She was later reassigned to the Misty Valley Branch Line replacing James. She discovered that the monster was just a family of seals and she is presumed to still work the line as it has never been stated otherwise.
When Thomas had to stay at Knapford Sheds, Emily did not like his company at first as she did not want any noise; she just wanted some sleep. However, she learned how comfortable it is to have the company of friends, missing Thomas when he did not return to the sheds. Originally disappointed once Tidmouth Sheds was rebuilt, she was delighted to find that the shed had gained a seventh berth and she was transferred there to be with her new shed mates.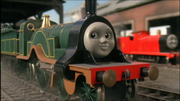 When Molly first came to the North Western Railway, Emily laughed at her for having to haul "empties" to the coaling plant and her feelings were hurt.
It was not long until Diesel took Gordon's special coaches away and Emily chased after him because he was usually being devious. She couldn't catch him anywhere and that made her feel silly. She told the Fat Controller what had happened. She scolded Diesel for taking the coaches when he was feeling ill. Diesel told her that he set a record too and Emily was surprised that he set a new record and Diesel explained to her that he shunted trucks one day than any other diesel. Later, Emily got a new diesel motor for Diesel. Emily apologised to Diesel that she did not listen and both diesels and steamies are both special.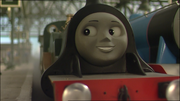 Emily thought that Whiff was smart and useful, then she was horrified to see that he was smelly, but decided to do her job. Gordon, James, Henry, Molly, Neville and Murdoch laughed at her for working with Whiff and she was tired for being teased. Then she saw Spencer looking very cross and he explained to her that his way was blocked with all those smelly rubbish trucks. Emily pulled as hard as she could, but the trucks were much too heavy for her to move on her own. She asked Gordon and James to help her, but they both disagreed with her and she got upset, then she found Whiff and apologised to him that she ran away from him and they got to work. They moved the rubbish trucks away, so that Spencer can be on his way and she said that Whiff is her new friend too.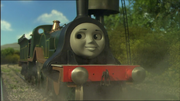 Like most engines, Emily can get quite puffed up in the smokebox. When she was called "Excellent Emily," she ignored the advice of Murdoch, Thomas and Duck. This ended up getting herself into trouble and she later took their advice to get her job done.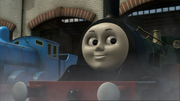 Emily tries her best to make her friends happy. When she assumed that Mavis was sad, she took flowers to the quarry which only created a mess. When she tried to help her friends with the football/soccer match, she neglected to fetch the dirty washing which turned out to be the football team's uniforms. Also, when the Fat Controller lost his top hat, Emily went to find it without success and then took the special Christmas train without permission. However, she made amends for her friends' sake.
Emily later took Paxton to Vicarstown Dieselworks after he was damaged during an accident at the Blue Mountain Quarry.
When Thomas hid his snowplough, Emily had to do Thomas' work and saved him when he got stuck in the snow again.
Thomas told Emily about the Flatbeds of Fear, but Emily did not believe in it and said there was a sensible explanation. She eventually believed in it, until Thomas told her that it was just one of Salty's tall tales. Later, she was very excited to collect a special which was a giant model of a globe of the world to take it to the Animal Park. However, it accidentally fell off and she spent some time chasing after it.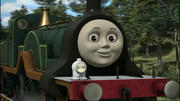 When the other engines tried to clear the tracks of snow for Connor to deliver the last train for Christmas, Emily was unable to clear them from the Sodor side. She was soon happy to see Hiro as he cleared it from the other direction and was later disappointed when they mistook Harold for Father Christmas by believing his red port lamp to be Rudolph's nose.
After Emily was informed by Paxton about the rumour that Toby was to be scrapped, Henrietta overheard this and knew it was not true. Emily took her to find Toby and once they found him safe, Emily gave him some of her coal.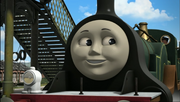 When Henry confided in Emily that he feared catching chickenpox from Stephen and Bridget, she assured him that he could not get chickenpox and joked that he worries too much.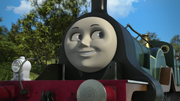 Emily became fascinated with Caitlin being able to go at such high speeds and wondered what it would be like to be fast, becoming depressed when she could not do so. However, in the end, she managed to save Caitlin who descended down a steep hill with broken brakes.
When Thomas was fed up with Diesel's selfishness during the holidays, Emily partook in Thomas' plan to mend the diesel's ways, much to her joy and amusement. She later attended the Earl's Christmas lunch with several other engines, including Thomas and a reformed Diesel.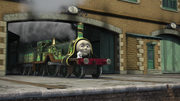 Emily was one of the other Sodor engines that took part of the Great Railway Show and competed in the Best Decorated Engine Parade along with James, but the two lost to Rajiv. After Percy dropped out of the Shunting Challenge, she encouraged Thomas to take his place, declaring him Sodor's last chance to win.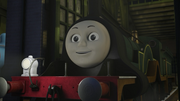 Once, when the Fat Controller was ill, Dowager Hatt took charge of the railway. She assigned Emily to Thomas' job of pulling Annie and Clarabel while Gordon was assigned to her job of taking scrap to the scrapyards. This resulted in lots of confusion and delay, culminating with a massive hold up outside of Knapford. Emily pointed this out to the Dowager and was able to help her get things back on track before the Fat Controller returned.
Later, Emily helped Donald and Douglas pull a heavy train of steel pipes to Vicarstown, but the journey became difficult when the twins kept teasing each other and arguing about swapping places. When they stopped on Gordon's Hill, Emily was left holding the train while Donald and Douglas continued to bicker. Eventually, Emily slipped down the hill and was knocked off the rails by a giant, heavy snowball, which had formed from a lump of coal shaken out of Donald's tender when Douglas bumped him. Once Harvey had cleared up the mess, Emily took the front while both twins pushed and they reached Vicarstown without any further trouble.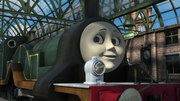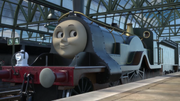 Following a storm on the Island of Sodor, Emily took the Sodor Rangers on a camping trip to Callan Castle, so that Nia had more time to finish her shunting in the yards. After going over bumpy and flooded tracks, Emily ended up derailing whilst trying to get a fallen tree off of the line. Later that night, Nia brought her the truck of camping supplies she had forgotten to pick up from the yards - fortunately, the Rangers were able to set up a camp using the survival skills they had learned. Emily and Nia stayed with them throughout the night and the next morning she was put back onto the tracks.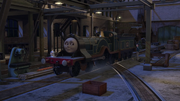 One time at Tidmouth Town Square, an unveiling of a sand sculpture was to take place. The Fat Controller sent the Steam Team off in pairs to help out. Emily didn't have anyone to work with and felt left out of not having a best friend. She got so distracted trying to find one that she nearly forgot about her job of delivering the final load of sand to finish off the sand sculpture. When Emily went back for it, her trucks were missing. She went to the unveiling and informed Thomas. Luckily, Thomas noticed Emily forgot her trucks, so he delivered them for her. Emily, feeling relieved, thanked Thomas and was happy to be surrounded by such good friends.
After fetching Rocky to save multiple engines from an accident, the Fat Controller rewarded her actions by making her the railway's official "safety engine" in addition to painting a number twelve on Emily.
Personality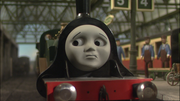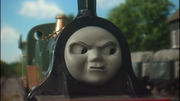 Emily was introduced as being kind, caring, helpful, mature, compassionate and always sensitive to the feelings of others. If she wrongs someone, knowingly or not, she is quick to apologize. She has an occasional habit of being fussy, bossy, rebellious and rude to others, such as not saying "Thank you" to Trevor and annoying Elizabeth over a fallen water tower, causing havoc whilst pulling the express, being rude to Edward, and pestering Thomas over getting his snowplough fitted. She strove to be the best and sometimes caused mishaps, but always made up for them when she realized her errors.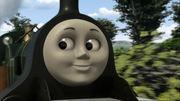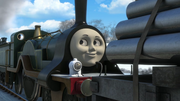 Along with shades of overconfidence, She often acts as a voice of reason, particularly when James gets too big for his wheels, or when a friend needs moral support. She has also been shown to be adaptable, able to think of a plan in a moment's notice. She is somewhat prone to jealousy or feelings of inadequacy, often longing for more excitement in her life when she hears of others' adventures, or for the same talents as them.
Technical Details
Basis
Emily is based on a Great Northern Railway (GNR) G3 Stirling Single 4-2-2. Designed by Patrick Stirling in 1870 with 8ft 1in driving wheels and outside cylinders, these engines were specifically built for high speed expresses between London and York. These engine were also capable of hauling 280 ton trains at 50 mph, though they could reach 85 mph on lighter services. A total of fifty-three engines were built at Doncaster between 1870 and 1895, in three series introduced in 1870, 1884 and 1894 respectively; the last was withdrawn in 1916. The only surviving member of her class (No. 1) is on display at the National Railway Museum. The engine in preservation carried a small capacity Sturrock tender, which was given in its first restoration in 1910. Recently, a derelict original Stirling Single tender used as a water and sludge carrier was found in Peterborough and, after restoration, was paired with the engine in 2014. Unlike Emily, the real engine has metal panels of the bogey wheels and the wheel arches over the driving wheels have oval-shaped vents.
Livery
Emily is painted emerald with yellow lining and brass fittings. Her running-boards are painted chocolate brown and her buffers were originally bronze, but have since turned silver. For the Great Railway Show, gold trim and flowers were added to her livery for her participation in the best-decorated engine parade. After she returned to Sodor, she was painted into her original livery.
From the twenty-fourth series episode, Emily to the Rescue onwards, Emily has her number 12 painted on the middle square on the sides of her tender in tan with chocolate brown borders.
Relationship
Home: Island of Sodor
Train Built: Steamie
Personality: Kind, nice, honest, bossy (sometimes), friendly, helpful, happy, horny, slutty, sexy.
Appearance: Emerald tender engine with 4 small wheels at the front, 2 drive wheels in the middle, 2 small wheels behind, and tender with 6 wheels, black smokebox, red chassis, black buffers, grey face, yellow portholes and white lamp
Numbers: 12
Gender: Female
Affiliations: Good
Allies: Thomas the Tank Engine (boyfriend), Edward the Blue Engine, Henry the Green Engine, Gordon the Big Engine, James the Red Engine (best rfiend), Percy the Small Engine (best friend), Toby the Tram Engine, Duck the Great Western Engine, Donald and Douglas the Scottish Twin Engines, Oliver the Great Western Engine, Molly the Yellow Engine (best female friend), Rosie (best female friend), Lady (beautiful magical friend), Nia the Helpful Engine, Rebecca the Happy Engine (best female friend), Murdoch the Strong Engine, Arthur the LMS Tank Engine, Spencer the Silver Engine (sometimes), Mavis the Quarry Diesel, BoCo the Metropolitan Vickers Diesel, Bill and Ben the Saddletank Engine Twins (good friends and pals), Fergus the Traction Engine, Annie and Clarabel, Old Slow Coach, Stanley, Stepney, Bertie, Terence, Butch, Trevor the Traction Engine, Caroline, Harold, Skarloey, Rheneas, Sir Handel, Peter Sam, Rusty the Little Diesel, Duncan, Duke, Freddie, Mighty Mac, Luke, Bertram, Ivo Hugh, Belle (beautiful friend), Millie, Stephen, Bash and Dash the Logging Locos, Ferdinand the Logging Loco, Hiro, Flynn, Connor, Caitlin, Stafford, Winston the Red Car, Victor, Kevin the Crane, Dennis, Charlie the Purple Engine, Billy, Salty, Porter, 

Harvey

, 

Elizabeth

(sometimes), Bulgy, Cranky (sometimes), Jack, Alfie, Oliver the Excavator, Kelly, Ned, Buster the Steamroller, Nelson, Paxton, Neville, Captain, Owen, Merrick, Hank, Flora, Pip and Emma, Jinty and Pug, Green Arrow, Iron Duke, Wilbert the Forest Engine, City of Truro, Bear
Enemies: Devious Diesel, 'Arry and Bert, Daisy, Diesel 10, Splatter and Dodge, Spencer (sometimes),

Elizabeth

 (sometimes), Cranky (sometimes), Max and Monty, George, 

Den

 (formerly), 

Dart

 (formerly), 

Norman

 (formerly), Paxton (formerly), 

Sidney

 (formerly), D261, The Horrid Lorries, S. C. Ruffey, Troublesome Trucks
Likes: Thomas (A Lot), working on the Fat Controller's Railway, telling Thomas what to do, being nice to her friends, imagining herself as a streamlined engine (like Caitlin, when she got take to the Steamworks), Taking Annie And Clarabel For Thomas (Because She Thinks Thomas Is Cute).
Dislikes: Causing confusion and delay, not being a Really Useful Engine, being late, danger, the idea of doing the Black Loch run (until she sees the "monster" is actually a family of seals), sharing her shed with Thomas (formerly), seeing Thomas in trouble, anyone mad at her, Spencer being rude to her and the other engines.
Counterparts (Female Version) (Hero Version)
Bebe Stevens (South Park)
Lillie Lightship (TUGS/Salty's Lighthouse; both are the main female characters)
Emily (Theodore Tugboat, both share the same name)
Tillie (The Little Engine That Could/Casey Jr. and Friends)
Koko, Calley, Olwin or Zephie (Chuggington)
Stacy Jones (Shining Time Station)
Princess Peach or Princess Daisy (Super Mario Bros.)
Princess Sally Acorn, Bunnie Rabbot, Amy Rose, Cosmo the Seedrian, Rouge the Bat, Breezie, Sonia the Hedgehog, Tikal the Echidna, NIGHTS, Vanilla the Rabbit, Sticks the Badger or Blaze the Cat (Sonic the Hedgehog)
Ariel (The Little Mermaid, both are beautiful and sexy)
Belle (Beauty and the Beast)
Princess Jasmine (Aladdin)
Adult Kiara or Adult Nala (The Lion King)
Lady (Lady and the Tramp, both are beautiful and sexy)
Duchess (The Aristocats, both are beautiful and sexy)
Twilight Sparkle, Rarity, Fluttershy, Pinkie Pie, Starlight Glimmer, Princess Cadance or Silverstream (My Little Pony: Friendship is Magic)
Kitty Katswell (T.U.F.F. Puppy, both are beautiful and sexy)
Marge Simpson (The Simpsons; both are bossy sometimes)
Lois Griffin (Family Guy; both are bossy sometimes)
Snow White (Snow White and the Seven Dwarfs)
Princess Fiona (Shrek)
Gloria (Madagascar, both are big and sexy)
Sailor Moon, Sailor Mercury, Sailor Mars, Sailor Jupiter or Sailor Venus (Sailor Moon)
Stella (Over the Hedge)
Cinderella/Ella (Cinderella)
Angie (Shark Tale)
Vixey (The Fox and the Hound)
Tigress (Kung Fu Panda)
Minnie Mouse, Daisy Duck, Clarabelle Cow or Emmy Lou (Mickey Mouse)
Dory (Finding Nemo/Finding Dory; both are beautiful)
Daphne Blake or Velma Dinkley (Scooby Doo)
Honey Lemon or GoGo Tomago (Big Hero 6)
Sally, Kori Turbowitz, Kathy Copter, Holley Shiftwell or Cruz Ramirez (Cars 1, 2 & 3, All Three are Beautiful)
Vanessa Doofenshmirtz, Candace Flynn, Stacy Hirano or Isabella Garcia Shapiro (Phineas and Ferb)
Penelope Pitstop (Wacky Races/The Perils Of Penelope Pitstop)
Kim Possible (Kim Possible)
Granny, Penelope Pussycat or Lola Bunny (Looney Tunes)
Esmeralda (The Hunchback of Notre Dame)
Pearl Krabs, Sandy Cheeks, Mrs. Puff or Squilvia (SpongeBob SquarePants)
Hello Nurse, Dot Warner or Minerva Mink (Animaniacs)
Francine Smith (American Dad)
Jessie or Bo Peep (Toy Story)
Kanga (Winnie the Pooh, both are big and sexy)
Blythe Baxter (Littlest Pet Shop (2012)
Ransome, Sims or Jeffries (The Foxbusters)
Maid Marian (Robin Hood)
Adult Faline, Young Faline, Young/Adult Faline or Bambi's Mother (Bambi)
Fifi La Fume or Babs Bunny (Tiny Toon Adventures)
Lady Campanula Tottington (Wallace and Gromit)
Lady Penelope Creighton-Ward (Thunderbirds)
Destiny Angel (Captain Scarlet and The Mysterons)
Ginger (Chicken Run)
Krystal (Star Fox)
Melonpanna (Anpanman; both are green)
Faetal (Splatalot, both beautiful)
Penelope or Lanolin (Garfield and Friends)
Matoran/Toa Metru Nokama (Bionicle)
Emiri Nakamura (Azazel Wranlie Big Pal/Wranlie (2012 Movie))
Sarah Hall-Small (The Wubbulous World of Dr. Seuss)
Toots (Tom and Jerry)
Gorgeous Gurinder or Henry's Mum (Horrid Henry, both are beautiful)
Jane Read, Francine Frensky or Muffy Crosswire (Arthur)
Didi Pickles or Kimi Watanabe Finster (Rugrats)
Cleo (Clifford the Big Red Dog; both are sexy)
Ami (Hi Hi PuffyAmiYumi)
Ruth P. McDougal (Hey Arnold)
Patricia "Patti" Mayonnaise (Doug)
Marianne Thornberry or Eliza Thornberry (The Wild Thornberrys)
Wanda or Trixie Tang (The Fairly Oddparents)
Patane Tufillo (31 Minutes, Both are Main Female Protagonists))
Sam Manson (Danny Phantom)
J.D. (Robot and Monster)
Donna Tubbs-Brown (The Cleveland Show)
Vera or Ethan's Mom (Trains)
Aelia/Alex (Insektors)
Biyomon (Digimon)
Florence/Margote (The Magic Roundabout)
Coral (Jellikins/Jellabies)
Mona (WarioWare, Both are Beautiful)
Miss Kitty Mouse (The Great Mouse Detective)
Princess Atta (A Bug's Life, both are beautiful and sexy)
Penny Morris (Fireman Sam)
Sara Clifton (Postman Pat)
Mrs Foil (The Upside Down Show)
Dorothy The Dinosaur or Emma (The Wiggles, both are beautiful and green)
Tizzy (Cubeez)
Jackie (Cyberchase)
Rose Tyler (Doctor Who)
Mundi Billington (Doki's Big Wonderland)
Zizzy (World of Doki)
Rita (Oliver and Company)
Mawa (Boowa and Kwala)
Magic Woman or Bandage Girl (Super Meat Boy)
Princess Loly (Super Samson Herms)
Cynder the Dragon (Spyro the Dragon/Skylanders)
Zoe, Rosita or The Queen of Trash (Sesame Street/The Adventures of Elmo in Grouchland)
Fa Mulan (Mulan)
Princess Leia (Star Wars)
Wilma Flintstone or Betty Rubble (The Flintstones)
Hermione Granger (Harry Potter)
Marion Ravenwood (Indiana Jones)
Petunia Rhubarb or Esther (Veggietales; both are beautiful)
Lady Like, Sirica or Fumu/Tiff (Kirby: Right Back at Ya!)
Buneary or Misty (Pokemon)
Ly (Rayman)
Cindy Bear (Yogi Bear, both are beautiful and sexy)
Cararise Aurely or Cararise's Mom (Cararise Aurely's Adventures)
Loly (Blue-Heax tint Jay)
Penny Crygor or Mona (WarioWare: Portfolio Cartoon, All Three are Beautiful)
Pocahontas (Pocahontas, both are beautiful and sexy)
Wendy Darling (Peter Pan)
Shanti (The Jungle Book)
Rebecca Cunningham (TaleSpin)
Jane Porter (Tarzan)
Janice or Miss Piggy (The Muppet Show)
Leela (Futurama)
Dorothy Gale (The Wizard Of Oz and Wicked)
Giselle (Enchanted, both are beautiful and the main females)
Bella Swan (Twilight Saga)
Rapunzel (Tangled)
Trinity (The Matrix)
Helen Wick (John Wick)
Maria Von Trapp (The Sound Of Music)
Bea Goldfishberg (Fish Hooks)
Baby (Dirty Dancing)
Sandy (Grease)
Tracy Turnblad (Hairspray)
Soo (The Sooty Show)
Vanessa Kensington (Austin Powers)
Peggy Hill (King of the Hill)
Angela Anaconda (Angela Anaconda)
Cindy Vortex (Jimmy Neutron)
Buttercup, Blossom, Bubbles or Ms. Keane (The Powerpuff Girls)
Pepper Ann (Pepper Ann)
Kimiko Tohomiko (Xiaolin Showdown)
Gaz (Invader Zim)
Mika Uehara (Initial D)
Numbuh 362 (Codename: Kids Next Door)
Little Miss Sunshine (The Mr. Men Show)
Penny Fitzgerald (The Amazing World of Gumball)
Margaret (Regular Show)
Coco Bandicoot (Crash Bandicoot)
Jemima Puddle-Duck (The World Of Peter Rabbit and Friends)
Stella (Interstella 5555)
Mandy (Mandy and Randy)
Abby (Cubix: Robots For Everyone)
Princess Eilonwy (The Black Cauldron)
Wendy Testaburger or Liane Cartman (South Park)
Teddy Duncan (Good Luck Charlie)
Princess What's-Her-Name (Earthworm Jim)
Tiger Lily (Rupert)
Paulette (Anatole)
Kelly Generic (Bobby's World)
Emmy (Dragon Tales)
Yurika Misumaru (Martian Successor Nadeisco)
Hazel (My Friend Rabbit)
Annie Reed (Sleepless in Seattle (1993))
Megara (Hercules)
Julie Woo (The Puzzle Place)
Tasha (The Backyardigans)
Baby Bop (Barney & Friends)
Maya the Bee (Maya the Bee)
Amaya/Owlette (PJ Masks)
Suzette La Sweet (Lalaloopsy)
Lena (Nutri Ventures)
Miss Doe or Patsy (Camp Lazlo)
Lori Loud (The Loud House)
Akari Mitsu (Akari Mitsu/Miracle Canyon)
Peppermint Patty (Peanuts; both Emily and Peppermint Patty are green)
Wendy Corduroy (Gravity Falls)
Bianca (Henry Danger)
Xena or Gabrielle (Xena) (Xena: Warrior Princess)
Serena (Hercules: The Legendary Journeys)
Miss Frizzle or Wanda Li (The Magic School Bus)
Yumi Ishiyama (Code Lyoko)
Amy Szalinski (Honey I Shrunk The Kids)
Dora Smarmy (Crashbox)
Athena (Dennis and Gnasher)
Six (Seven Little Monsters, both are big, beautiful and sexy)
She plays Twilight Sparkle in My Little Engine: Friendship Is Magic
She is a Unicorn/Alicorn pony.
She is a little emerald engine that could.
She plays GoGo Tomago in Big Engine 6
She is a mechanical engineering student
She is a fairy.
She plays Jewel in 

Rio (Paul Young and Paul Young 65's Style)

 and More!
She is a parrot
She plays Cho Chang in the Harry Potter movie series
She is a Ravenclaw student
She is a Mermaid
Gallery
Main Article: Emily the Beautiful Engine/Gallery