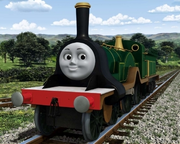 Emily is a beautiful girl, the main female, and the mysterious Emerald stiring single tender engine in Thomas the Tank Engine and Friends.
Relationship
Home: Island of Sodor
Train Built: Steamie
Personality: Kind, nice, honest, bossy (sometimes), friendly, helpful, happy, horny, slutty, sexy.
Appearance: Green tender engine with 4 small wheels at the front, 2 drive wheels in the middle, 2 small wheels behind, and tender with 6 wheels, black smokebox, red chassis, black buffers, grey face, yellow portholes and white lamp
Numbers: 12
Gender: Female
Affiliations: Good
Allies: Thomas the Tank Engine (best friend), Edward the Blue Engine, Henry the Green Engine, Gordon the Big Engine, James the Red Engine (boyfriend), Percy the Small Engine (best friend), Toby the Tram Engine, Duck the Great Western Engine, Donald and Douglas the Scottish Twin Engines, Oliver the Great Western Engine, Murdoch the Strong Engine, Arthur the LMS Tank Engine, Spencer the Silver Engine (sometimes), Mavis the Quarry Diesel, BoCo the Metropolitan Vickers Diesel, Bill and Ben the Saddle Tank Engine Twins (good friends and pals), Fergus the Traction Engine, Annie and Clarabel, Old Slow Coach, Stanley, Stepney, Bertie, Terence, Butch, Trevor the Traction Engine, Caroline, Harold, Skarloey, Rheneas, Sir Handel, Peter Sam, Rusty the Little Diesel, Duncan, Duke, Freddie, Mighty Mac, Luke, Bertram, Ivo Hugh, Molly the Yellow Engine, Rosie, Lady (beautiful magical friend), Belle (beautiful friend), Millie, Stephen, Bash and Dash the Logging Locos, Ferdinand the Logging Loco, Hiro, Flynn, Connor, Caitlin, Stafford, Winston the Red Car, Victor, Kevin the Crane, Dennis, Charlie the Purple Engine, Billy, Salty, Porter, Harvey, Elizabeth (sometimes), Bulgy, Cranky (sometimes), Jack, Alfie, Oliver the Excavator, Kelly, Ned, Buster the Steam Roller, Nelson, Paxton, Neville, Captain, Owen, Merrick, Hank, Flora, Pip and Emma, Jinty and Pug, Green Arrow, Iron Duke, Wilbert the Forest Engine, City of Truro, Bear
Enemies: Devious Diesel, 'Arry and Bert, Daisy, Diesel 10, Splatter and Dodge, Spencer (sometimes), Elizabeth (sometimes), Cranky (sometimes), Max and Monty, George, Den (formerly), Dart (formerly), Norman (formerly), Paxton (formerly), Sidney (formerly), D261, The Horrid Lorries, S. C. Ruffey, Troublesome Trucks
Likes: Thomas (A Lot), working on the Fat Controller's Railway, telling Thomas what to do, being nice to her friends, imagining herself as a streamlined engine (like Caitlin, when she got take to the Steamworks), Taking Annie And Clarabel For Thomas (Because She Thinks Thomas Is Cute).
Counterparts (Female Version) (Hero Version)
Lillie Lightship (TUGS/Salty's Lighthouse; both are the main female characters)
Emily (Theodore Tugboat, both share the same name)
Zephie (Chuggington)
Stacy Jones (Shining Time Station)
Princess Peach or Princess Daisy (Super Mario Bros.)
Princess Sally Acorn, Bunnie Rabbot, Amy Rose, Cosmo the Seedrian, Rouge the Bat, Breezie, Sonia the Hedgehog, Tikal the Echidna, NIGHTS, Vanilla the Rabbit, Sticks the Badger or Blaze the Cat (Sonic the Hedgehog)
Melonpanna (Anpanman; both are green)
Faetal (Splatalot, both beautiful)
Penelope Pitstop (Wacky Races/The Perils Of Penelope Pitstop)
Penelope or Lanolin (Garfield and Friends)
Fifi La Fume or Babs Bunny (Tiny Toon Adventures)
Matoran/Toa Metru Nokama (Bionicle)
Emiri Nakamura (Azazel Wranlie Big Pal/Wranlie (2012 Movie))
Hello Nurse or Dot Warner (Animaniacs)
Sarah Hall-Small (The Wubbulous World of Dr. Seuss)
Toots (Tom and Jerry)
Gorgeous Gurinder or Henry's Mum (Horrid Henry, both are beautiful)
Francine Frensky or Muffy Crosswire (Arthur)
Pearl Krabs, Sandy Cheeks, Mrs. Puff or Squilvia (SpongeBob SquarePants)
Didi Pickles or Kimi Watanabe Finster (Rugrats)
Cleo (Clifford the Big Red Dog; both are sexy)
Ami (Hi Hi PuffyAmiYumi)
Granny, Penelope Pussycat or Lola Bunny (Looney Tunes)
Ruth P. McDougal (Hey Arnold)
Patricia "Patti" Mayonnaise (Doug)
Marianne Thornberry (The Wild Thornberrys)
Wanda or Trixie Tang (The Fairly Oddparents)
Patane Tufillo (31 Minutes, Both are Main Female Protagonists))
Sam Manson (Danny Phantom)
Kitty Katswell (T.U.F.F. Puppy)
J.D. (Robot and Monster)
Marge Simpson (The Simpsons; both are bossy sometimes)
Lois Griffin (Family Guy; both are bossy sometimes)
Donna Tubbs-Brown (The Cleveland Show)
Vera or Ethan's Mom (Trains)
Aelia/Alex (Insektors)
Biyomon (Digimon)
Florence/Margote (The Magic Roundabout)
Coral (Jellikins/Jellabies)
Jessie or Bo Peep (Toy Story)
Mona (WarioWare, Both are Beautiful)
Miss Kitty Mouse (The Great Mouse Detective)
Princess Atta (A Bug's Life)
Penny Morris (Fireman Sam)
Sara Clifton (Postman Pat)
Mrs Foil (The Upside Down Show)
Dorothy The Dinosaur (The Wiggles, both are beautiful and green)
Tizzy (Cubeez)
Jackie (Cyberchase)
Rose Tyler (Doctor Who)
Mundi Billington (Doki's Big Wonderland)
Zizzy (World of Doki)
Rita (Oliver and Company)
Mawa (Boowa and Kwala)
Esmeralda (The Hunchback of Notre Dame)
Magic Woman or Bandage Girl (Super Meat Boy)
Ginger (Chicken Run)
Princess Loly (Super Samson Herms)
Lady Campanula Tottington (Wallace and Gromit)
Cynder the Dragon (Spyro the Dragon/Skylanders)
Zoe, Rosita or The Queen of Trash (Sesame Street/The Adventures of Elmo in Grouchland)
Fa Mulan (Mulan)
Ariel (The Little Mermaid)
Belle (Beauty and the Beast)
Princess Leia (Star Wars)
Wilma Flintstone or Betty Rubble (The Flintstones)
Hermione Granger (Harry Potter)
Marion Ravenwood (Indiana Jones)
Petunia Rhubarb or Esther (Veggietales; both are beautiful)
Lady Like, Sirica or Fumu/Tiff (Kirby: Right Back at Ya!)
Buneary or Misty (Pokemon)
Ly (Rayman)
Princess Jasmine (Aladdin)
Cindy Bear (Yogi Bear, both are beautiful and sexy)
Cararise Aurely or Cararise's Mom (Cararise Aurely's Adventures)
Tillie (The Little Engine That Could/Casey Jr. and Friends)
Loly (Blue-Heax tint Jay)
Penny Crygor or Mona (WarioWare: Portfolio Cartoon, All Three are Beautiful)
Pocahontas (Pocahontas, both are beautiful and sexy)
Krystal (Star Fox)
Maid Marian (Robin Hood)
Wendy Darling (Peter Pan)
Adult Faline, Young Faline, Young/Adult Faline or Bambi's Mother (Bambi)
Adult Kiara, Young Kiara, Young Kiara, Young/Adult Nala, Young/Adult Nala or Adult Nala (The Lion King)
Shanti (The Jungle Book)
Rebecca Cunningham (TaleSpin)
Jane Porter (Tarzan)
Janice or Miss Piggy (The Muppet Show)
Leela (Futurama)
Daphne Blake or Velma Dinkley (Scooby Doo)
Lady Penelope Creighton-Ward (Thunderbirds)
Destiny Angel (Captain Scarlet and The Mysterons)
Dorothy Gale (The Wizard Of Oz and Wicked)
Maria Von Trapp (The Sound Of Music)
Baby (Dirty Dancing)
Sandy (Grease)
Sally, Kathy Copter, or Holley Shiftwell (Cars 1, 2 & 3, All Three are Beautiful)
Tracy Turnblad (Hairspray)
Soo (The Sooty Show)
Vanessa Kensington (Austin Powers)
Peggy Hill (King of the Hill)
Francine Smith (American Dad)
Angela Anaconda (Angela Anaconda)
Cindy Vortex (Jimmy Neutron)
Buttercup, Blossom, Bubbles or Ms. Keane (The Powerpuff Girls)
Pepper Ann (Pepper Ann)
Kim Possible (Kim Possible)
Kimiko Tohomiko (Xiaolin Showdown)
Gaz (Invader Zim)
Mika Uehara (Initial D)
Numbuh 362 (Codename: Kids Next Door)
Little Miss Sunshine (The Mr. Men Show)
Twilight Sparkle, Rarity, or Pinkie Pie (My Little Pony: Friendship is Magic)
Blythe Baxter (Littlest Pet Shop (2012))
Penny Fitzgerald (The Amazing World of Gumball)
Margaret (Regular Show)
Coco Bandicoot (Crash Bandicoot)
Jemima Puddle-Duck (The World Of Peter Rabbit and Friends)
Sailor Moon (Sailor Moon)
Stella (Interstella 5555)
Mandy (Mandy and Randy)
Abby (Cubix: Robots For Everyone)
Princess Eilonwy (The Black Cauldron)
Dory (Finding Nemo/Finding Dory; both are beautiful)
Wendy Testaburger or Liane Cartman (South Park)
Stella (Over the Hedge)
Princess Fionia (Shrek)
Angie (Shark Tale)
Gloria (Madagascar, both are big and sexy)
Tigress (Kung Fu Panda)
Minnie Mouse, Daisy Duck or Clarabelle Cow (Mickey Mouse)
Kanga (Winnie the Pooh, both are big and sexy)
Vanessa Doofenshmirtz, Candace Flynn or Isabella Garcia Shapiro (Phineas and Ferb)
Teddy Duncan (Good Luck Charlie)
Princess What's-Her-Name (Earthworm Jim)
Tiger Lily (Rupert)
Paulette (Anatole)
Kelly Generic (Bobby's World)
Emmy (Dragon Tales)
Yurika Misumaru (Martian Successor Nadeisco)
Hazel (My Friend Rabbit)
Annie Reed (Sleepless in Seattle (1993))
Megara (Hercules)
Julie Woo (The Puzzle Place)
Tasha (The Backyardigans)
Baby Bop (Barney & Friends)
Maya the Bee (Maya the Bee)
Amaya/Owlette (PJ Masks)
Suzette La Sweet (Lalaloopsy)
Lena (Nutri Ventures)
Miss Doe or Patsy (Camp Lazlo)
Lori Loud (The Loud House)
Akari Mitsu (Akari Mitsu/Miracle Canyon)
Peppermint Patty (Peanuts; both Emily and Peppermint Patty are green)
Wendy Corduroy (Gravity Falls)
Bianca (Henry Danger)
Xena or Gabrielle (Xena) (Xena: Warrior Princess)
Serena (Hercules: The Legendary Journeys)
Wanda Li (The Magic School Bus)
Yumi Ishiyama (Code Lyoko)
Amy Szalinski (Honey I Shrunk The Kids)
Dora Smarmy (Crashbox)
Athena (Dennis and Gnasher)
She is a little emerald engine that could.
She plays GoGo Tomago in Big Engine 6
She is a mechanical engineering student
She is a fairy.
She is a parrot
She plays Cho Chang in the Harry Potter movie series
She is a Ravenclaw student
She is a Mermaid
Gallery
Main Article: Emily the Beautiful Engine/Gallery
Community content is available under
CC-BY-SA
unless otherwise noted.