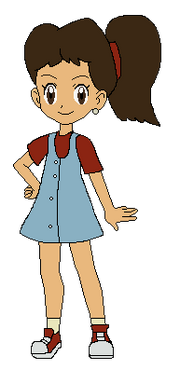 Emmy is a character of the television show, Dragon Tales. She appears in her spin-off show, Emmy and Max's Outstanding Adventures.
Voice Actors:
Appearance:
Brown hair, red ribbon, red T-shirt, light blue vest, white socks, red and white sneakers, brown eyes. Her swimsuit is a one piece swimsuit with a flower.
Personality:
She is known to be smart, and the leader of the group.
Gallery: