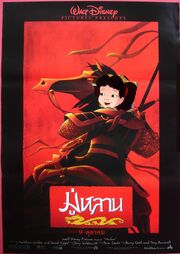 1953Movies' movie-spoof of Mulan (1998). It will appear on YouTube in the near future to celebrate the 20th Anniversary.
Cast:
Mulan - Emmy (Dragon Tales)
Shang - Tim (The Boss Baby)
Mushu - Ord (Dragon Tales)
Cri-Kee - Ant (Bugs a Life)
Khan - Himself
Yu - Dr. Drakken (Kim Possible)
Falcon - Itself
Yao - Alvin Smith (Alvin and the Chipmunks:Bigger)
Ling - Tom (Tom and Jerry)
Chein Po - Yogi Bear
Fa Zhou - Ron Stoppable
Fa Li - Kim Possible
Grandmother Fa - Ann Possible
Chi-Fu - Himself
General Li - Tim's Dad (Boss Baby)
Matchmaker - Miss Miller (Alvin and the Chipmunks)
Firs Ancestor - Himself
Emperor - King Triton (The Little Mermaid)
Quotes:
Tim Templeton: You don't belong here, Emmy. Go home.
Emmy: Tim, I saw them in the mountains. You have to believe me.
Tim Templeton: Why should I?
Trivia:
Both A Bug's Life and Mulan were released in 1998.
Gallery:
Community content is available under
CC-BY-SA
unless otherwise noted.