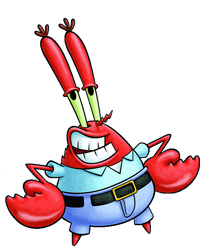 Eugene H. Krabs is a crab from SpongeBob SquarePants.
Bio
He is an evil earthbender
Krabs played Mr. McCallister in Skunk and Spike
Krabs played Victor in The Despicable Of Norte Dame(TheTureDisneyKing Style)
He is the one of the Sunnyside Toys
He is a SpongeBob's best friend
Krabs played Lord Farquaad in Sunset Shimmerek
He is a villain
Krabs played Wart in The Adventures of Sunset Shimmer the Flying Girl
Krabs played Sa'Luk in Rinladdin The Queen of Theives
he is a thief
He is a dinosaur
He is a cow guard form
He is a Book
He is a Frankenstein's monster
he is a cat
He is a video game character
He is a Genie
Krabs played Dr. Jumba Jookiba in Mabel and Yang
Mr. Krabs played as Chris in Total Animal
He is the host.
He is an ogre
Mr. Krabs played Mufasa in The Meta King
Portrayals:
Gallery:
Community content is available under
CC-BY-SA
unless otherwise noted.