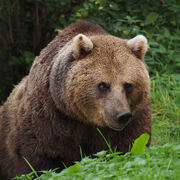 The Eurasian brown bear (Ursus arctos arctos) is one of the most common subspecies of the brown bear, and is found in much of Eurasia. It is also known as the European Brown Bear, European Bear, the Common Brown Bear, the Common Bear, and colloquially by many other names. It is also recognized as the national animal of many Eurasian countries, including Russia and Finland. The genetic diversity of present-day brown bears (Ursus arctos) has been extensively studied over the years and appears to be geographically structured into five main clades based upon analysis of the mtDNA. The Eurasian brown bear has brown fur, which ranges from yellow-brownish to dark brown, red-brown, and almost black in some cases; albinism has also been recorded. The fur is dense to varying degrees and the hair can grow up to 10 cm in length. The head normally is quite round in shape and has relatively small rounded ears, a wide skull and a mouth equipped with 42 teeth, including predatory teeth. It has a powerful bone structure and large paws equipped with claws that can grow up to 10 cm in length. The weight varies depending on habitat and the time of the year. A full-grown male weighs on average between 250 and 300 kilograms (550 and 660 lb), and reaches an average weight of 481 kg (1,058 lb) and length of nearly 2.5 m (8.2 ft). Females typically range between 150 and 250 kg (330 and 550 lb).
Roles
Gallery 
Also See
Community content is available under
CC-BY-SA
unless otherwise noted.