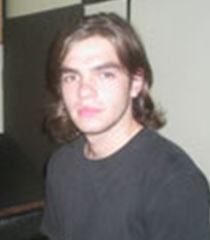 Fábio Lucindo (born February 16, 1984 in São Paulo) is a Brazilian actor, voice actor and presenter. He specializes for dubbing cartoons, anime, films, and video games in the Brazilian Portuguese language. His best known works for dubbing in anime are the characters: Shinji Ikari in Neon Genesis Evangelion, Shaoran (Cardcaptor Sakura), Ash Ketchum (Pokémon), Krillin (Dragon Ball), Kiba Inuzuka (Naruto), Arnold in Hey Arnold!, Takuya Kanbara (Digimon Frontier) and Ichigo Kurosaki (Bleach). He also voiced Spider-Man (The Spectacular Spider-Man), Eric Forman in That 70s Show, Troy Bolton (played by Zac Efron from the High School Musical series), Spyro the Dragon for the Skylanders series, which is the second reboot for the Spyro the Dragon video game franchise, and Snips from My Little Pony: Friendship Is Magic as well as voicing Cheese Sandwich in the show's season four episode "Pinkie Pride".
Voices:
Ash Ketchum - Pokemon
Doug Funnie - Doug
Ichigo Kurosaki - Bleach
Alvin Seville - Alvin and the Chipmunks (CGI Films)
Arnold - Hey, Arnold
Community content is available under
CC-BY-SA
unless otherwise noted.