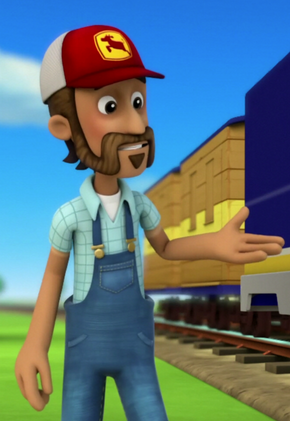 Farmer Al is the farmer of Moo Juice Dairy Farm in Adventure Bay. He is the husband of Farmer Yumi, who he married in "Pups Save a Wedding". He also has a train, and takes care of his animals.
Farmer Al owns a few cows, such as Edwena and Bessie, and also has a couple of pigs (Emma and Corny).
Farmer Al is the only character in PAW Patrol who speaks with a Southern accent. He is always thankful when someone helps him out. Like many farmers, he easily gets worried when his farm or animals seem to be in trouble.
Farmer Al has light colored skin, short brown hair, dark brown eyes and a beard with a mustache and a soul patch. He wears a John Deere-style hat (with red and white colors and a cow on it instead), and a pair of overalls covering a light blue plaid shirt. His cell phone has a cow print cover.
"Now I've seen everything!"
Community content is available under
CC-BY-SA
unless otherwise noted.