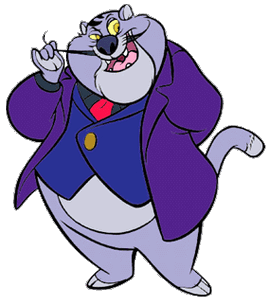 Voice Actors:
Jim Cummings - English
Yu Shimaka - Japanese
Masayuki Kato - Japanese
He is a Evil Sorcerer
He is Koopa
He is Sith Lord
He was Professor Utonium's Monkey
He is Horned Demon Cat
He is Madame Medusa's Partner
Fat Cat plays Shan Yu in Beckylan
He is Evil Japanese Hun Warrior
Fat Cat plays Dr. Eggman in Chip X
Fat Cat Plays Sullivan in the secret of nimh (Crhis1701 style)
Fat Cat Played Grun In Amberlina
He is a Jerk
He is a sith lord
Fat Cat plays Bom Vimdin in Animation Star Wars
He is a cantina patron
He plays Mr. Dark in Matey (Rayman) (Thomas O'Malley's Style)
He is Rayman's master.
Portrayals:
Relatives:
Wife - Kismet
Sons - Garfield and Mepps
Daughter In Law - ???
Brother - Cat R. Waul
Father -
Cousin - Maltese de Sade
Enemies:
Gallery:
Community content is available under
CC-BY-SA
unless otherwise noted.