Disney and Sega's movie-spoof of 2016 Disney/Pixar film, "Finding Dory".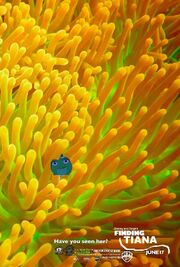 Cast:
Dory - Frog Tiana (The Princess and the Frog)
Marlin - Kermit the Frog (The Muppets)
Nemo - Robin the Frog (The Muppets)
Mr. Ray - Dodger (Oliver & Company)
Gill - Basil (The Great Mouse Detective)
Bloat - Thomas O'Malley (The Aristocats)
Gurgle - Darkwing Duck
Deb - Fawn Deer (Raw Toonage)
Flo - Faline (Bambi)
Peach - Rebcca Cunningham (TaleSpin)
Jacques - Goofy (Disney)
Bubbles - Bonkers (Disney's Bonkers)
Crush - Alex the Lion (Madagascar)
Hank - Hunter (Storks)
Bailey - Marsupilami (Disney's Marsupilami)
Destiny - Miss Spider (Miss Spider's Sunny Patch Friends)
Jenny - Denise the Pig (The Muppets)
Charlie - Danger Toad (Danger Mouse)
Tad - Sniffles the Mouse (Looney Tunes)
Pearl - Molly Cunningham (TaleSpin)
Sheldon - Spunky (Chip 'n Dale Rescue Rangers)
Fluke and Rudder - Chief Bogo (Zootopia) and Bing Bong (Inside Out)
Otters - The Lemmings (Norm of the North)
Becky - Chip (The Little Engine That Could)
Giant Squid - Max (Cats Don't Dance)
Young Dory - Lily (LeapFrog)
Teenage Dory - Kiki the Frog (Hector's House)
Gerald - Thomas the Tank Engine (Thomas and Friends)
Seagulls - Penguin's March (Farce of the Penguins)
Trivia:
Third to use the Hasbro and Mattel Films logo appears at the beginning and end.
Second to use the Jim Henson Pictures logo appears at the beginning.
Transcript
Gallery:
Community content is available under
CC-BY-SA
unless otherwise noted.