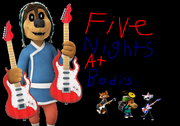 This is a horror Five Nights at Freddy's and The Banana Splits Movie like movie for the whole family
Characters
Johnny Cage
Sonya Blade
Cassie Cage
Ben Tennyson
Gwen Tennyson
Max Tennyson
Carl Tennyson
Sandra Tennyson
Jonathan Benson (Dies)
Bodi (Reformed)
Darma (Reformed)
Germur (Reformed)
Angus Scattergood (Reformed)
Linnux (Dies)
Adagio (Redeemed)
Brodi (Mentioned)
Astro (Mentioned)
Cassie (Mentioned)
Stephen Quire (Dies)
Jack Quire (Dies)
Markiplier/Ryu Ranger
Ninja/Ken Rannger
CaptainSparklez (Mentioned)
Gallery
Transcript
Five Nights at Bodi's (Movie)/Transcript
Summary
Ben Tennyson is going to see Rock Dog on his birthday instead of going to see Zombozo the Clown. All the Rock Dog Animatronics just learned about their show is about to be cancelled but they decided to uncancel their show by kill people.
Deaths
Jack Quire (Lollipop in his throat by Adagio)
Stephen Quire (Head Cut Off by Linnux)
Jonathan Benson (Decapitated of Banana Split)
Linnux (Getting Destroyed by Ben Tennyson)
Warning:
This movie contains, some language, blood, violence, peril, smoking and action.
Community content is available under
CC-BY-SA
unless otherwise noted.