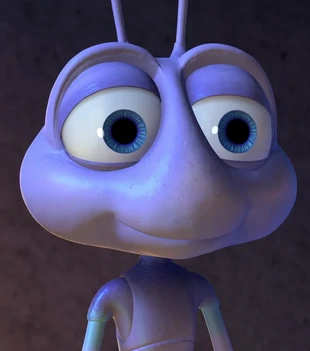 Flik is a lovable ant from A Bug's Life.
He Played Tulio In Z And Flik The Road To El Dorado
He is a circus bear
He Played Balto In Flikto
He Is A Grey Dog
He is a ant
He is a magpie bird
He is a lion
He is a gorilla
He is a Minion
He played Thomas O'Malley in The Aristobugs
He is a cat
He is a Banana Slug
He played as Shining Armor In My Little Toons: FIM
He is Twilight's big brother, best friend forever.
Portrayals:
Voice Actors:
Dave Foley - English
Wally Wingert - Sing Alongs
Mitsuru Miyamoto - Japanese
Jesús Barrero - Latin American Spanish
Marco Ribeiro - Portuguese
Massimiliano Manfredi - Italian
Thierry Wermuth - French
Tomer Sharon - Hebrew
Gilbert Lachance - French
Gallery:
Community content is available under
CC-BY-SA
unless otherwise noted.