Line 19:
Line 19:
 

Flintheart Glomegold.jpg

 

Flintheart Glomegold.jpg

 

Flintheart and do.png

 

Flintheart and do.png

 
+

Flintheart Glomgold in DuckTales (2017).jpg|Flintheart Glomgold in DuckTales (2017)

 

</gallery>

 

</gallery>

 

[[Category:Characters]]

 

[[Category:Characters]]
---
Revision as of 02:17, 1 September 2017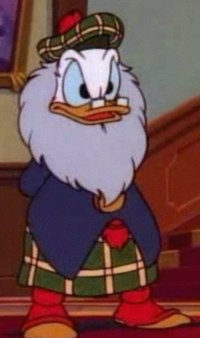 Flintheart Glomgold is a fictional character in Disney comic books - a Scottish-South African white duck usually portrayed as a ruthless villain, a corrupt business tycoon, and an antagonist to Scrooge McDuck. Glomgold is one of Scrooge's main rivals along with the Beagle Boys, Magica De Spell, and John D. Rockerduck, and also holds the title of being The Second Richest Duck in the World where Scrooge is the richest. His appearance is similar to that of Scrooge, and he is sometimes characterized as being of Scottish descent as well (speaking with a Scottish burr in most animated features, though he is generally accepted as being from South Africa in the continuity of the comic books). He is drawn with a full beard and sideburns as opposed to simple side-whiskers, a dark tam o'shanter with a red pom pom, and black frock coat instead of Scrooge's red or blue one. It can be assumed that he actually is of Scottish descent as it was stated that both he and Scrooge are distantly related to Bogey McDivot in John Lustig and Vicar's comic book story "Family of Fore." Glomgold was originally created in 1956 by Scrooge McDuck artist and creator Carl Barks, the creator of much of the Duck universe. He is portrayed as an ambitious, ruthless, and manipulative businessman who shares many of the same qualities as Scrooge - the drive for massive wealth, and the cunning and creativity to obtain the same - but he lacks any of Scrooge's tendencies towards generosity and compassion. He rarely has issues breaking the law, cheating and using other unfair tactics in order to fulfill his goal of becoming the world's richest duck, distinguishing him from Scrooge McDuck. In Lars Jensen and Vicar's comic book story "Happy Birthday, Flintheart Glomgold", Glomgold's nephew Slackjaw Snorehead is introduced. This character has been characterized as friendly and extremely laid-back but also secretly gifted in business. In the 1988 DuckTales comic book story "The Smart Nephew" by Bob Gregory, Cosme Quartieri and Jorge Sanchez, another nephew of Glomgold appears: the smart and brave Junior. And in Werner Wejp-Olsen and Daniel Branca's comic book story "The Top Treasure In Town" Flintheart's grandfather, who in 1870 worked as a hansom cab driver in London, is introduced.
He is a mean prince
Portrayals:
In MouseTales he is played by Jenner.
Rescue RangersTales Professor Ra
Voice Actors:
Gallery:
Community content is available under
CC-BY-SA
unless otherwise noted.