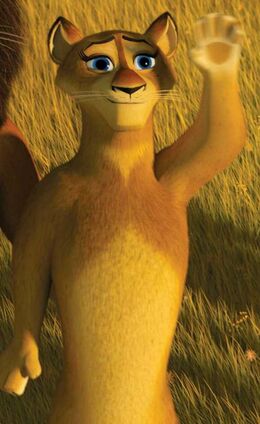 Florrie the Lioness is Alex's mother from Madagascar: Escape 2 Africa.
She is Sokka and Katara's grandmother
Florrie played Hera in Alexcules
She is Hercules' mother
She is a queen
Florrie played Stacey Johnston in Simba and Kovu
She is Jason's mother and Gunther's stepmother
Florrie played Sarabi in The Lion King (MadagascarRockz Style)
She is a lioness
She is the mother of Haru
Florrie played Kala in Dannyarzan
She is a gorilla
Frorrie played Tarzan's Parents in Simbarzan
She is Tarzan's mother
She is the wife of Avatar Roku
Florrrie played Grandmother Fa in Nala (Mulan)
She is Mulan's great grandmother
Florrrie played Alceme in Kovucules
She is Hercules' adoptive mother
She is a meerkat
Florrie played Corde in Animation Star Wars
Florie Played Queen ??? In Sailor Nala
Portrayals:
Gallery:
Community content is available under
CC-BY-SA
unless otherwise noted.