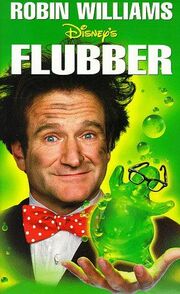 Flubber is a 1998 VHS.
Chapters:
Program Start
Wrong Class
Unwanted Visitor
Strange Surprise
Controlled Experiment
"No Show" Explanation
Testing Flubber
High Flyin' Ride
What Happened?
Pregame Pep-Talk
Mambo!
Amazing 2nd Half
A Visit With Sara
An Offer For Flubber
Intruders
Negotiating A Deal
Do It For Weebo
End Credits
Previews:
Green FBI Warnings
Walt Disney Home Video 1992 Logo
Coming Soon to Theaters bumper
A Bug's Life trailer
Disneyland Paris 1998 trailer
Coming Soon to Own of Video Cassette bumper
Disney Sing Along Songs trailer
Now Available from Disney Interactive bumper
Winnie the Pooh Reading and Math trailer
Collect Mickey's Ears commercial (Valid until February 15, 1999)
Walt Disney Video Classics Commercial
Feature Presentation (Thanks for Joining us for this Special Preview) bumper
Walt Disney Home Video 1992 Logo
This film has been modified
Walt Disney Pictures logo
Great Oaks bumper
Printdate:
October 1, 1998.
Community content is available under
CC-BY-SA
unless otherwise noted.