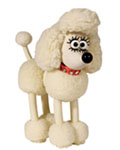 Fluffles is a poodle from Wallace and Gromit: a Matter of Loaf and Death.
Gallery
Trivia
She only appears in A Matter of Loaf and Death, this being the latest Wallace & Gromit production.  If there is another it is unknown whether or not she will return.
During his attempt to see Fluffles, Gromit's intial and hers are seen carved on the tree. "F heart G"; hinting romantic relations between them. Or it could had meant that Fluffles or Gromit carved them.
It is hinted that Fluffles may have tried stopping Piella's murderous attempts before. Before hitting her, Piella stated "You've crossed me once too often".
It is possible that she'll now live with Wallace and Gromit since Piella was eaten by crocodiles.
Fluffles sleeps in a bed made from a [Meatabix] box.
Her appearances in the Stephen Squirrelsky and Friends' Movie Spoof Travels are Despicable Me (Justin Quintanilla's Style), We're Back!: A Jungle Animal's Story, Jimmynocchio, The Wizard of Oz (Uranimated18's Style), Isabellan, 101 Trains, and Goku's Travels and will even be in more movie spoof travels.