She is a character from My Little Pony: Friendship is Magic. She Is Dumbo's Girlfriend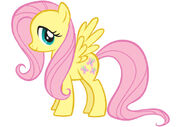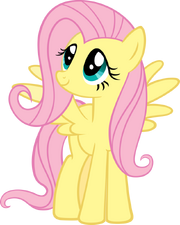 She is the Orphan Girl
She is an Sailor Scout of the Moon
She Is A Frog
She Is A Ragdoll
She a Princess she meets Gumball and Mojo Mojo
Fluttershy played Meg in Dumbocules
She a tomboy woman
She is In Meets Tramp and In The Evil Spell of The Evil Rat Professor Ratigan turns Her into Pegasus
She is a purple pterodactyl
Fluttershy played Jane Porter in Discordzan
She is Tarzan's mate
Fluttershy played as Nick Massi in Jersey Ponies
Fluttershy (with the rest of main ponies and Spike) played an extra with Kimiko in Kimiko and The Beanstalk
Fluttershy played Pain and Panic as My Little Pony-Style Female Horse in Kimikules
She is disguised as female pegasus
Fluttershy (with the rest of main ponies and Spike) played Raven in Teen Xiaolins
She is the member of Teen Titans
Fluttershy played Carlotta in The Little Equestria Girl (Twilight'sSpaceStar17's Style)
She is a mouse
Fluttershy (with the rest of main ponies and Spike) played Archimedes in The Sword in The Stone (Twilight'sSpaceStar17's Style)
She is an owl
She is a meerkat
Fluttershy played Ghoulia Yelps in Xiaolin High
She is a female zombie
She is a Pink Girl with Red Glasses
She is a ghost
Fluttershy played Dawn in Total Drama Revenge Of The Island (RebeccaTheSorceress' Version)
She is a Kind-Hearted Nature-Loving Contestant, Who is a Sorceress and reads other people's Auras.
She is Dee Dee and Mee Mee's Best Friend.
She is a former scientist infected with gamma radiation that makes her turn into a monster.
Fluttershy played Dragon in Simba (Shrek)
She is a Dragon and Donkey's Girlfriend
She is a Magic Flying Carpet
She is a hyena
She is a Green Dinosuar
She is a piglet
She is a goat
She is a ninja turtle
She is a fairy
She is a farm girl
She is nice to animals and is a snow white themed Lalaloopsy
Gallery
Community content is available under
CC-BY-SA
unless otherwise noted.