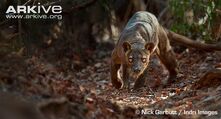 The fossa (Cryptoprocta ferox) is the largest carnivore in Madagascar and superficially resembles an elongate cat in appearance. The tail is almost as long as the slender, muscular body, and the fossa's coat is short and reddish-brown in color. The head is fairly small, with a short muzzle and prominent ears. Unlike other members of the Viverridae family, the fossa walks on the soles of its feet; a method of locomotion known as 'plantigrade'. The short, retractable claws also enable efficient tree climbing.
Roles
Portrayals
Gallery
Books
Community content is available under
CC-BY-SA
unless otherwise noted.