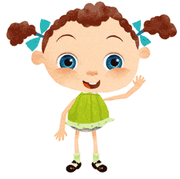 Franny is a 6 year-old girl named franny feet who appared in Florries Dragons on CBBC.
Franny she is Voiced by Phoebe McAuley (Maria Darling in the UK dub).
Looks
Franny is red-brown hair and two blue bow gold-peche a two brown-red pupils and blue eyes an nose a mouth teeth and tongue red and hole red a green dress and green socks and brown-black shoes.
Appearance
Franny is one an rat yay the that great thank, you grandpa
Flutterbaby gets ungrounded franny's feet version
Franny as Flutterbaby from Flutterbaby gets ungrounded
Trivia
franny who love appear in Decode.