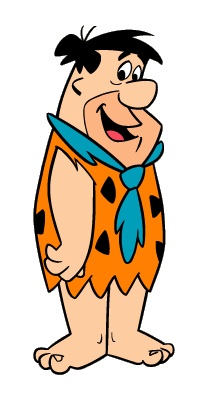 Fred Flintstone is the main character of the animated sitcom The Flintstones, which aired during prime-time on ABC during the original series' run from 1960 to 1966. Fred is the husband of Wilma Flintstone and father of Pebbles Flintstone. His best friend is his next door neighbor, Barney Rubble, who has a wife named Betty Rubble and an adopted son, named Bamm-Bamm Rubble.
Actors
John Goodman (1994 film)

Alan Blumenfeld

(look-alike, 1994 film)

Mark Addy

(2000 film)
Voice Actors:
Portrayals:
Gallery:
Trivia
His appearances in the Stephen Squirrelsky and Friends' Movie Spoof Travels are Aurorastasia, Despicable Me (Justin Quintanilla's Style), We're Back!: A Jungle Animal's Story, Jimmynocchio, The Wizard of Oz (Uranimated18's Style), Isabellan, 101 Trains, and Goku's Travels and will even be in more movie spoof travels.