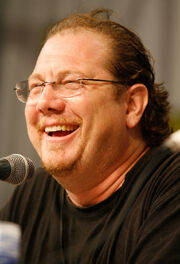 Frederick Tatasciore (/ˈtætəʃɔːr/; born June 15, 1967) is an American voice actor.
Career
Tatasciore has portrayed mostly secondary characters as well as monster-looking types. He is known for voicing the Hulk in several Marvel projects, including the Marvel Animated Features, Marvel: Ultimate Alliance 2, Avengers: Earth's Mightiest Heroes as well as Avengers Assemble. In video games, he is known for voicing Saren Arterius in the critically acclaimed Mass Effectseries, Damon Baird in the Gears of War series and Zeratul from the game StarCraft II: Wings of Liberty. He also voices the character "8" in the Tim Burton-produced film 9. His most recent roles are Neftin Prog in Ratchet & Clank: Into the Nexus, Nikolai Belinski in the Call of Dutyfranchise, Megatron in Transformers: War for Cybertron, Transformers: Fall of Cybertron and Transformers: Rise of the Dark Spark, Tookit in ThunderCats and the Business Cat in the web series Our New Electrical Morals, with episodes posted in the Cartoon Hangover YouTube page, administered by Frederator Studios. He has also voiced Snap Shot, Slam Bam, Warnado, Zook and Cuckoo Clocker in the Skylanders franchise. Additionally, he voices Soldier: 76 in Blizzard's first-person shooter Overwatch and Xür in Bungie's first-person shooter, Destiny.
Roles
Community content is available under
CC-BY-SA
unless otherwise noted.