Broadwaygirl918's parody of Frozen.
Cast
Gallery
Videos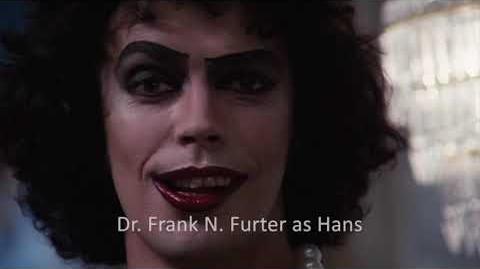 Scenes
Opening Titles/"Frozen Heart"
Little Girls
Apostles
"Do You Wanna Build a Snowman?"
Coronation Day/"For the First Time in Forever"
Janet Meets Dr. Frank N. Furter
Dr. Everett Scott/"Love's A Open Door"
Puppy Love/Party's Over
Frank in Charge/"Let It Go"
Big Summer Blowout
Wolf Chase
Frosty/"In Summer"
Janet's In Trouble
Audrey's Palace/"For the First Time in Forever (Reprise)"
Audrey II!
Don't Feel/Janet Meets the Apostles
"Fixer Upper"
Frank in Audrey's Palace
Audrey's In Jail/Janet at the Castle
Betrayal
People Are Worth Melting For
Snowstorm/True Love/Summer's Back
New Castle Look
End Credits
Community content is available under
CC-BY-SA
unless otherwise noted.