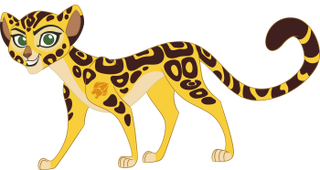 Fuli is a
Tanzanian Cheetah
/
King Cheetah
from The Lion Guard but She is Kion's Girlfriend/Wife.
She is an animated princess
He is a fun-loving, mischievous, and responsible pea.
Full played Donnie the Minion in Fourscore: Polar's Wild Adventure (Awesome Me 2)
He is a two-eyed Minion
She is Genie's Girlfriend
Fuli Played Only Sailor Mini Moon In Sailor Tigress
She is Daughter of Neo queen Serenity and King Endymion
she is ariel and ???'s Daughter
She is a Vixen
She is a purple Pteranodon
Gallery
Community content is available under
CC-BY-SA
unless otherwise noted.