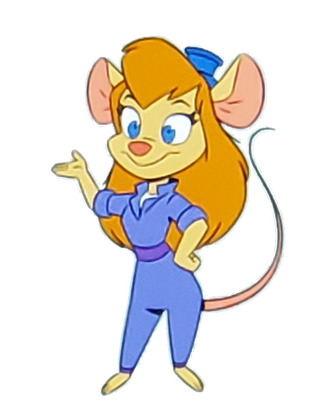 Gadget Hackwrench is one of the main characters from Chip 'n Dale Rescue Rangers She was voiced by Tress MacNeille. She is also the cute and very beautiful daughter of Geegaw Hackwrench and Stephanie Wheatfield Hackwrench. who was a very close friend of Monterey Jack, She is also a Mother of Tot, Widget, Kimberly, Charlie, Nathan, and Allister. and a Wife of Chip.
Voice Actors:
Tress MacNellie - English
Miina Tominaga - Japanese
Naoko Matsui - Japanese
Angélique de Boer - Dutch
Ariadna Rivas - Spanish
Edina Somlai - Hungarian
She played Raye/Sailor Mars in Sailor Rebecca
She played Amy Rose in Chip X
She played Karin Kurosaki in Bleach spoof for ???
She played Dowager Empress Marie in Pearlstasia
She played Grandmother Fa in Nellan and Nellan 2
She played Alcmene in Orinocules
She played Ladies Laughing at Aladdin in Orinoladdin
She played Ape Family in Orinoco Pan
She played Mother Rabbt in Orinoco Hood
She played Thumbelina in Gadgetlina
She Played Sakura Haruno In Chipruto
She Played Sailor Chibi Moon In Sailor Tweezle
She played Mrs. Bird in Charlieton
She will play Lola Bunny in an upcoming Looney Tunes parody
She will play either Fifi La Fume or Babs Bunny in an upcoming Tiny Toon Adventures parody
She will play Kitty Katswell in an upcoming TUFF Puppy parody
She will play Captain Amelia in an upcoming Treasure Planet parody
She will play Lt. Pete "Maverick" Mitchell in an upcoming Top Gun parody
She will play Penny Gadget in an upcoming Inspector Gadget parody
She will play Brandy Harrington in an upcoming Brandy and Mr. Whiskers parody
She will play Princess Sally Acorn in an upcoming Sonic The Hedgehog parody
She will play Rita in an upcoming Flushed Away parody
She will play Kim Possible in an upcoming Kim Possible parody
She will play Miss Bianca in an upcoming The Rescuers parody
She will play Tanya Mousekewitz in an upcoming An American Tail parody
She will play Launchpad McQuack in an upcoming DuckTales parody
Family
Geegaw Hackwrench (Father)
Stephanie Wheatfield Hackwrench (Mother)
Chip (Husband)
Tot (Son) (From KittMouri)
Allister (Daughter) (From livefunknouveau)
Charlie (Son) (From Nicole Morley (Live2Dream))
Kimberly (Daughter) (From Brian Moe (Pouncer))
Nathan (Son) (From Brian Moe (Pouncer))
Widget (Daughter) (Appears on Of Men and Mice)
Lahwhinie (Twin)
Bridget (Sister)
Kaiser (Brother)
Edison (Nephew)
Mia and Zia (Twin Nieces)
Tootles (Niece)
Fifi (Niece)
David (Nephew)
Dani (Niece)
Portrayals:
Gallery:
Community content is available under
CC-BY-SA
unless otherwise noted.