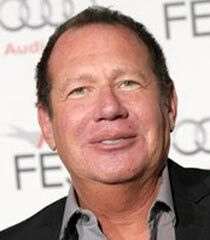 Garry Emmanuel Shandling (November 29, 1949 – March 24, 2016) was an American comedian, actor, writer, producer, and director. He was best known for his work in It's Garry Shandling's Show and The Larry Sanders Show. Shandling began his career writing for sitcoms such as Sanford and Son and Welcome Back, Kotter. He made a successful stand-up performance on The Tonight Show Starring Johnny Carson and became a frequent guest-host on the show. Shandling was for a time considered the leading contender to replace Carson (other hopefuls were Joan Rivers, David Letterman and David Brenner). In 1986 he created It's Garry Shandling's Show, for the pay cable channel Showtime. It was nominated for four Emmy Awards (including one for Shandling) and lasted until 1990. His second show, The Larry Sanders Show, which began airing on HBO in 1992, was even more successful. Shandling was nominated for 18 Emmy Awards for the show and won in 1998, along with Peter Tolan, for writing the series finale. During his three-decade career, Shandling was nominated for 19 Primetime Emmy Awards and two Golden Globe Awards, along with many other awards and nominations. Shandling died on March 24 after a massive heart attack.
Voices:
Gallery:
Community content is available under
CC-BY-SA
unless otherwise noted.