Garth is a character from Alpha and Omega.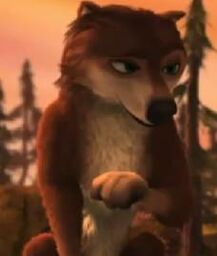 He is a tall, fun-loving, and noble minion.
He is a television-personality broccoli.
Garth plays Scallion 2 in FunnyTales
He is a scallion.
Garth plays Adult Kovu in 

The Wolf King 2: Humprey's Pride
He is a lion
He is a noble-hearted person and the best friend of Tulio.
Garth plays Meriadoc "Merry" Brandybuck in The Animal Lord Of The Rings
He is a hobbit
Garth plays Captain Typho in Animation Star Wars
Garth plays The Grinch In How The Wolf Stole Christmas
He is a green creature who hates Christmas
Garth plays Diego in Forest Age
He is a smilodon
He is a grizzly bear
He is a knight
Garth plays Rex Dangervest in Atypical 2: The Furry Movie (The Lego Movie 2: The Second Part), alongside Shining Armor
He is a cowboy, archaeologist, raptor trainer, and time traveler. He is also the hardened future version of Emmet Brickowski.
Garth plays Kanan Jarrus in

Star Wars: Rebels (Youknowhatmoviesucks Style)
He is a jedi rebel
Garth plays Knuckles in

Felix the Cat (Sonic the Hedgehog)
Portrayals
Relatives
Wife-Lilly
Daughters-Star and Dori
Son-Jared
Brother - Nars
Sister in Law - Kate
Brother in Law - Humphrey
Nephews - Stinky, Runt and Fleet
Niece - Claudette and Magril
Uncle in Law-Winston
Aunt in Law-Eve
Father - Tony
Mother - Niara
Gallery