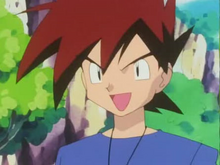 Gary Oak is Ash's Rival in Pokemon
Voice Actors:
Japanese -
English -
Spanish -
Swedish -
French -
Cantonese -
Indian -
Swahili -
Portuguese -
Chinese -
German -
Italian -
Korean -
Hebrew -
Polish -
Gary Oak played Prince Achmed in Ashladdin
Gary Oak Played Sasuke Uchiha In Rairuto
Gary Oak played Draco Malfoy In Ash Ketchum and the Sorcerer's Stone
He is Harry Potter's archrival, son of Lucius Malfoy and former Student of Slytherin
Gary Oak Played Reed Daley In An American Tail: The Myster of the Night Monsters (Chris1702 Style)
Gary Oak Annoying Darien In Sailor Misty
Gary Oak played Chip Tracy in Jimmy and the Boys (1983)
S3E23 Joseph, he was the murder victim which he was shot to death only to find out that it was meant for Joseph Shaw (portrayer to be identified). His ghost will be seen by Joseph Shaw himself.
Portrayals:
Gallery:
Community content is available under
CC-BY-SA
unless otherwise noted.