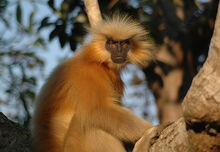 Gee's golden langur (Trachypithecus geei), or simply the golden langur, is an Old World monkey found in a small region of western Assam, India and in the neighboring foothills of the Black Mountains of Bhutan. It is one of the most endangered primate species of India. Long considered sacred by many Himalayan people, the golden langur was first brought to the attention of the western world by the naturalist E. P. Gee in the 1950s. In a part of Bhutan, it has hybridised with the capped langur (T. pileatus).
See Also
Gallery
Community content is available under
CC-BY-SA
unless otherwise noted.