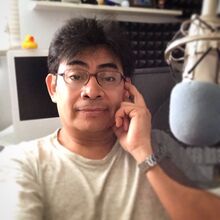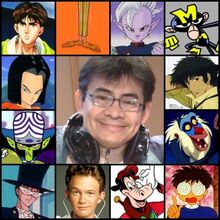 Genaro Vásquez is a voice actor and announcer Mexican native Oaxaca, Oaxaca. I graduated from the Faculty of Arts, graduated in Dramatic Literature and Theater at UNAM. He works as a radio announcer in "Waves Hispanic" station in Toronto and as a commercial broadcaster for different brands. Currently he is working on another Canadian Radio "CHHA Latino voices". In dubbing it is best known as the voice of Spike Spigel in the anime Cowboy Bebop , as the voice of Android 17 and the Supreme Kaisoma in Dragon Ball Z and Dragon Ball GT , and the first voice of Tuxedo Mask / Mamoru Chiba in Sailor Moon , Dr. Doogie Howser as in the series of the same name and "Dad" in the animated series The Cow and Chicken . He currently lives in Toronto, Canada where he still works in speech, theater, dance and dubbing for Mexico and other countries from a small study from there. Currently is the institutional voice of the internet radio station Radio Latino Dragon Ball Z where the program is transmitted dubbing Dubbing Night.
Voices:
Darien Chiba/Tuxedo Mask/Prince Darien (Episodes 1-65), Melvin/Kelvin Taylor (Gurio Umino) - Sailor Moon
Mojo Jojo - The Powerpuff Girls
Horace - House of Mouse
Rafiki - The Lion King
Crawler, Father Ghost - The Monster Clubhouse
Android 17, Supreme Kaiosama - Dragon Ball Z/GT
Gallery:
Community content is available under
CC-BY-SA
unless otherwise noted.