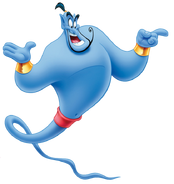 Genie is a blue genie from Aladdin. He is voiced by the late Robin Williams in the first and third movie. He was voiced by Dan Castellaneta in the second movie and TV series and He was played by Will Smith in the live action movie.
Appearance
He has a ponytail in his hair, a beard and if we can see well when he is free from the lamp he has a smoke tail instead of feet. He is blue and has his bracelets, Aladdin can control him with the lamp since his smoke tail is inserted in the lamp
Personality
Aladdin is the king and Jasmine the queen of Arabia so genie is their servant, In the series ''The 4 warrior cousins (An Taled Tale)'', He fulfills wishes for the girls' uncle ''Aladdin'', In episode 2 of that series the girls touch different parts of the genie's body, And those are; Ponytail of hair, Smoke tail and beard.
Played The 4 warrior cousins (An Taled Tale)
As the genie
Played haruhi's father in jungle highschool host club
He is a single father
He is an alarm clock radio
Played Jethro In The Prince Of Asgard
He Is An Father
He is an seagull
Played Lenny in Immortal Tale And Genie Tale
He is a shark
He is a dwarf
He is a bear
He is a dumpty who sat on the wall
He is a Mutant Chao
He is an red ape
He is a purple emotion
He is a wizard
He is a bear
Played Grunkle Stan in

Gravity Falls (Davidchannel's Version)
He is a old man
Played Casper in Genie(Casper)
He is a friendly ghost
He is a vulture
He is a lost boy
He is a sea king
He is a man
Played Dr. Brazzle in

Taran and Wart
He is a magician
He is a Jedi
He is a human
He is a hunchback
He is a clown
Played Chunk in Super Ultra All Star Story 3
He is a robot
Played Fat Albert in Fat Genie The Movie (Dragon Rockz Style)
He is a fat man
He is a starfish
He is a dwarf
He is a snowman
Played Rex in Toon Story (Twilight'sSpaceStar17's Style), Toon Story 2 (Twilight'sSpaceStar17's Style), Toon Story 3 (Twilight'sSpaceStar17's Style), Toontown Story, Toontown Story 2 and Toontown Story 3
He is a dinosaur
Played The First Ancestor in Frankielan
Played Sleepy in Twilight Sparkle and The Seven Toons
He is a dwarf
Played Chef Louis in The Little Xiaolin Princess, and The Little Xiaolin Princess 2: Return of The Sea
He is a chef
Played Kronk's Angel in The Pegasus's New Groove
He is an angel
Played Vinny in Atlantis: The Lost Empire (Twilight'sSpaceStar17's Style)
Played Mr. Krabs in The Rainbow Dashpants Movie
He is a crab
Played King Eidilleg in The Black Cauldron (Twilight'sSpaceStar17's Style)
He is an elf
Played Cranston Goat in Xiaolins Don't Dance
He is a goat
Played Speed in The Ghoul Princess
He is a turtle
Played Lon in Frankiehontas
Played Thor in The Avengers (Twilight'sSpaceStar17's Style)
He is a super hero
He is a mask
He is a Jolly Man
He is a Monster
He is a Monster
He is a warthog
Played Mr. Tanaka in Disney X
He is a Butler
He is a penguin
He is a theif
He is a boy
Played Chief Powhatan in Alicehontas
He is an Indian Chief
He is a panda
He is a dinosaur
He is a dog
Played Himself In

Shingo (Aladdin)

and Ronladdin
Played SkyTrain Mark I #125
He is a shark
He is a Monster
Voice Actors:
Robin Williams (1992-2001) - English
Dan Castellaneta (1994-2008) - English

Jim Meskimen

(2008-Present) - English
Will Smith (2019) - English
Rubén Trujillo - Latin American Spanish
Portrayals:
Gallery: