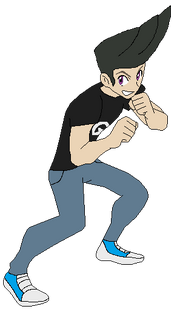 George is a supporting character in Rosemary Hills.
Voice Actors:
Jeremy Irons - English
Akira Ishida - Japanese

Javier Olguín

 - Latin Spanish

Oscar Mas

 - European Spanish

Paulo Flores

 - Brazilian Portuguese

Pedro Carneiro

 - European Portuguese
Appearance:
George's appearance is known for wearing a black shirt, and blue jeans. His hair is black and wavy (similar to Johnny Bravo), and purple eyes, blue and white shows, and a big white G on his shirt.
Personality:
George's personality is known for brave, courageous, musical, intelligent, and handsome.
Gallery: